Not on the Lips
(2004)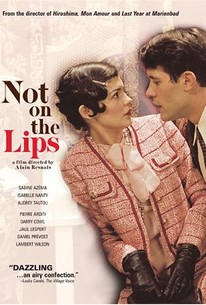 Movie Info
A high-society housewife finds her social standing threatened when her American ex-husband arrives in Paris in Hiroshima Mon Amour director Alain Resnais' adaptation of André Barde's farcical 1920s-era operetta. With money to spare and a lavish home, Gilberte Valandray (Sabine Azéma) spends most of her days relaxing and enjoying the company of close friend Huguette (Audrey Tautou). When Gilberte learns that her ex-husband Georges Valandray (Pierre Arditi) has arrived in Paris, her desperate bid to keep her past hidden from her current husband is further complicated by the constant advances of her many admirers.
Critic Reviews for Not on the Lips
Audience Reviews for Not on the Lips
½
Spirited comedic operetta set in 1925 as a high society woman's husband meets her ex-husband for a major business deal while each unaware she had previously married the other. I don't like musicals as a rule but when a cast shows a level of commitment on par with Chicago or Moulin Rouge then I capitulate. This cast surely had to know their stuff on par with a true live show performance as the very long takes and pinpoint timing must've required many many hours of rehearsal. Audrey Tautou sparkles as a supporting character and comes in 5th or 6th in screen time, while it's Isabelle Nanty playing her older sister who gets the best lines, sometimes speaking directly to camera and the audience. Script includes some witty satirization of art movements and the people who only follow the hottest trend, for example the hot ticket is for a new ballet with a seal as the leading dancer, and Cubism has been supplanted by Spherism.
Doctor Strangeblog
Super Reviewer
Textbook definition of how NOT to film a musical. The blocking and cinematography are so static. Even a stage musical would have been directed better than this. The Midsummer Night's-esque story gets cuter in the third act, but on the whole, a shallow farce. Isabelle Nanty is quite good.
Alice Shen
Super Reviewer
½
Utter madness and quite charming. Funny, crazy, musical.
Leigh Ryan
Super Reviewer
Not on the Lips Quotes
There are no approved quotes yet for this movie.