noobz
(2013)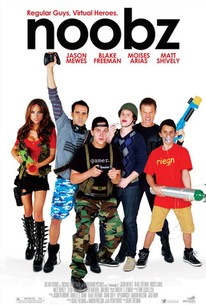 AUDIENCE SCORE
Critic Consensus: No consensus yet.
Movie Info
Noobz is the first big, outrageous comedy to capture gamer culture from the inside. Four friends hit the road to LA to compete in the Cyberbowl Video Game Championship but will they be able to compete with the worst hangovers of their lives?
 
Cody has just lost his job and his hot wife is leaving him because he can't stop gaming. Game store clerk Andy (Jason Mewes, Jay and Silent Bob Strike Back) convinces him to get the Reign Clan together, including sexually confused Oliver (Matt Shively, Paranormal Activity 4) and asthmatic teen "Hollywood" (Moises Arias, Ender's Game, TV's "Hannah Montana"), and head to California to win prize money and meet Andy's online gamer-girl crush Rickie (Zelda Williams, daughter of Robin Williams). Nothing, not a Mom armed with mace or a bunch of bodacious strippers or a mulleted arcade game champion stuck in the '80s (Jon Gries, Napoleon Dynamite) or even Casper Van Dien (Starship Troopers) will stop this unlikely team from getting their frag on and bringing their A-game to the stiff competition. (c) Big Air Studios
News & Interviews for noobz
Critic Reviews for noobz
All Critics (3) | Fresh (0) | Rotten (3)
It's fair to say Noobz misses what it's aiming for -- a breezy, raunchy comedy steeped in a unique lingo and bolstered by a flashy endorsement deal -- by a long shot. If not for Mewes and the occasional laugh, the film would be a complete letdown.
A wearying, across-the-board comedic misfire, unredeemed by a couple charming supporting performances, that lamely tries to hitch its trailer to the $17-billion-a-year videogaming industry.
Instead of lighthearted adventuring, Noobz makes The Wizard look like The Matrix, slogging through stupidity for what feels like an eternity at times.
Audience Reviews for noobz
½
Noobz was exactly what I was hoping it would be. A mind numbing fun time. I have no idea if the movie is accurate when it comes to the gaming world because I am not a gamer nor do I know one. But the things I did love about the movie was how much it made me laugh. Blake Freeman and Matt Shively were the funniest of the group. The one liners really had me rolling. I know most aren't huge fans of vulgar comedy and especially gal's, but I do. I guess it's from having so many guy friends. So if you just want to have a good laugh minus all the seriousness and a movie that has no real point, then this is a film for you. I would watch it again.
♥˩ƳИИ ƜѲѲƉƧ♥
Super Reviewer
This film is woefully inaccurate and has wildly missed its mark in its attempt to capture gaming culture. The film starts off by showcasing the rivalry that is now more popular than ever between online games. Gone are the days of one man sat in his room, bashing his joystick on his own. Now said joystick basher has the chance to test his wits against other like-minded people across the globe. Even better than that, there are now gangs/clans that games can join up with in order to take down other clans via the joys of the worldwide web. The concept of the film is quite nice in principle, but the execution is sloppy. The film takes elements from films such as Fanboys, Detroit Rock City, Role Models, Sex Drive and the aforementioned The King of Kong documentary, yet it fails to live up to any of those. Flat, hollow, lifeless and unfulfilled are just some words to throw at Noobz. I was really hoping for a lot more from this film, yet I was massively disappointed. It's not without its charms, it's just that they're few and far between. Four friends hit the road to LA to compete in the Cyberbowl Video Game Championship, but will they be able to compete with the worst hangovers of their lives?
½
Not a bad movie, nothing that will make you laugh hard but good enough to pass away a few hours. And if you like gaming then its probably more fun than those who don't.
Stuart Brooks
Super Reviewer
noobz Quotes
There are no approved quotes yet for this movie.