Noah's Arc: Jumping the Broom
(2008)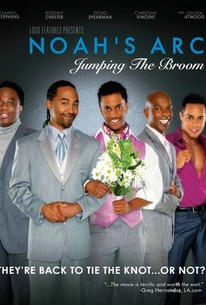 Noah's Arc: Jumping the Broom Photos
Movie Info
The popular Logo series about the lives and loves of four gay African-American men gets the feature-film treatment with this road movie that finds longtime friends Noah, Alex, Ricky, and Chance traveling to Martha's Vineyard with their significant others for a weekend wedding retreat. Aspiring Los Angeles screenwriter Noah (Darryl Stephens) and his partner, Wade (Jensen Atwood), are about to be married in an intimate Martha's Vineyard ceremony, and to celebrate in style Noah has invited Alex (Rodney Chester), Ricky (Christian Vincent), and Chance (Douglas Spearman) to join the couple on a cross-country road trip from California to Massachusetts. However, the trip is far from the relaxing getaway that Noah had hoped for, because along the way secrets are revealed, hearts are bruised, and friendships are put to the ultimate test. Not only are Chance and Eddie beginning to feel the urge to scratch their seven-year itch, but playboy Ricky has a secret that's sure to rock everyone's world, and the appearance of a surprise visitor quickly threatens to overshadow the main event. Add a closeted rapper and a high-maintenance studio executive into the mix, and you've got the recipe for an endearing romantic comedy that's as poignant as it is hilarious.
Critic Reviews for Noah's Arc: Jumping the Broom
Audience Reviews for Noah's Arc: Jumping the Broom
½
It was a light-hearted and fun way to kill an almost-2-hours. I know very little about the series, but admire the creators for presenting people that are rarely shown in media, and when they are, usually represented in caricature: gay black men. While I enjoyed watching what was basically a gay black male Sex And The City, a little part of me was uneasy. I felt like while it was giving these men a platform to represent themselves, albeit in a goofy romantic comedy, it seemed to perpetuate the stereotype that most gay men (especially black men) are promiscuous and are only kidding themselves if they think they can commit to monogamy, let alone parenthood. Other than that, my favorite characters had to be Wade (Jensen Atwoood) who was the title character's fiance, and Brandon (Gary Leroi Gray) who plays the young "meat" Ricky (Christian Vincent) brings along to basically keep him warm at night. Wade was one of the only two butch men in the movie and I just loved everything about him. He wasn't this hyperactive character, he wasn't a "homo thug"; he was deep and laid back. It didn't hurt that he's easy on the eyes either. And Brandon, the young college student who hadn't come out to his family yet, was so self-aware, about gay culture, black culture and how they clash and mesh. There's a scene where he and Wade are having a discussion about their identities and how they're expected to carry themselves in gay circles and black circles and I just found it very deep and eye-opening. If they make any more "Noah's Arc" movies, they need more of this content.
Remi Logan
Super Reviewer
Noah's Arc: Jumping the Broom Quotes
There are no approved quotes yet for this movie.