No Escape
(2015)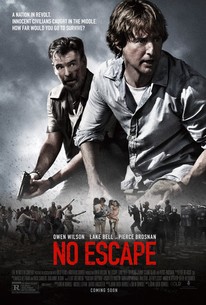 TOMATOMETER
AUDIENCE SCORE
Critic Consensus: No Escape's talented cast and taut B-movie thrills are unfortunately offset by its one-dimensional characters and uncomfortably retrograde worldview.
Movie Info
An intense international thriller, NO ESCAPE centers on an American businessman (Wilson) as he and his family settle into their new home in Southeast Asia. Suddenly finding themselves in the middle of a violent political uprising, they must frantically look for a safe escape as rebels mercilessly attack the city. Directed by John Erick Dowdle and written together with his brother Drew, NO ESCAPE stars Owen Wilson, Pierce Brosnan and Lake Bell. (C) Weinstein
News & Interviews for No Escape
Critic Reviews for No Escape
Audience Reviews for No Escape
A film that never got much advertisment and ends up being a very good film, We get about 5 of these a year, It's an edge of your seat action thriller that's kind of offensive in ways but still a great popcorn flick and it was nice to see Owen Wilson in a serious role for a change, The action was very good and full of suspense all the cast were great but Pierce Brosnan was brilliant but under used, The film has had some harsh reviews because critics don't like it when a film dares to step over certain lines, It's a film you watch enjoy then forget about.
Jamie Clarke
Super Reviewer
½
Incredibly intense, No Escape is the story of a family's desperate fight for survival in the face of extreme circumstances. When Jack Dwyer moves his wife and kids to Southeast Asia after getting a job with an American company they get caught-up in a violent revolution and must find a way to get to the American embassy before they're captured and killed by the street mobs. Owen Wilson, Lake Bell, and Pierce Brosnan lead the cast, and give fairly good performances. And, the director uses some interesting slow motion techniques that intensify the action. Still, the pacing is rather slow in the first act, and the plot is pretty thin. Yet for a high-adrenaline chase film, No Escape works.
Dann Michalski
Super Reviewer
½
"No Escape" knows no subtlety. I was almost surprised that subtitles didn't appear throughout the movie notifying the audience of the messages and moments of pathos they were intended to perceive, in case those points were missed in the clunky script. It didn't help that the film's lead, Owen Wilson, was completely miscast -- unless a feckless, wimpy father was the hero Dowdle had in mind for his everyday American. If you are a fan of action and suspense who doesn't really care about characters or story, then the film might not be so bad for you. There are some exciting moments (even if they later succumb to the silly), so it's not a complete dud. Overall, "No Escape" is a completely forgettable film.
Christian C
Super Reviewer
No Escape Quotes
There are no approved quotes yet for this movie.