The Ninth Gate
(1999)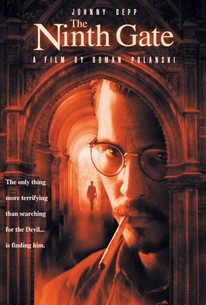 TOMATOMETER
AUDIENCE SCORE
Critic Consensus: Even though the film is stylish and atmospheric, critics say The Ninth Gate meanders aimlessly and is often ludicrous. And despite the advertising, there's hardly any chills.
Movie Info
Dean Corso is highly skilled at his work, a position which requires dexterity, cultural expertise, nerves of steel...and few scruples. Known for locating rare books for wealthy collectors, Corso is hired by eminent book-lover and scholar of demonology, Boris Balkan. Corso's mission: to find the last two volumes of the legendary manual of satanic invocation "The Nine Gates of the Shadow Kingdom," compare them with Balkan's first volume, supposedly the only one of its kind, and ascertain the authenticity of the series. Corso accepts the challenge. From New York to Toledo, Paris to Sintra, he immerses himself in a labyrinth full of pitfalls and temptations, disturbing encounters, violence and mysterious deaths. Protected by an angelic creature and guided by a force more powerful than himself, the hunter solves one by one the mysteries of the dreaded Book and discovers the real purpose of his mission...
Critic Reviews for The Ninth Gate
Audience Reviews for The Ninth Gate
½
An engaging, slow-burning satanic thriller in the first hour, but soon the mysteries start to pile up in a plot that leaves too much unanswered (the reason behind the first death, Corso's behavior in the end, etc.), and it falls flat with a very anticlimactic conclusion.
Carlos Magalhães
Super Reviewer
Boris Balkan: You read from this book, but you have no conception of its true power. I alone have grapsed its secret, I alone have fathomed the master's grand design, I alone am worthy to enjoy the fruits of that discovery: absolute power to determine my own destiny! "Leave the Unknown Alone" The Ninth Gate is a very intriguing, compelling, and all around entertaining film from Roman Polanski. Polanski is a director I have meant to start watching more of. Before viewing this I had only seen Chinatown, Rosemary's Baby, and The Pianist, all of which were masterpieces in their own rights. The Ninth Gate isn't quite that good, but is a great story to see Polanski in years and years after Rosemary's Baby. This film is drenched in the occult, devil worshipping, references to secret orders of celebrity and political persons(Illuminati). It's a mystical film for sure. Dean Corso is an expert on rare books. He gets a job working for a guy named Balkan who has a very rare and weird collection of priceless books. One of which is The Nine Gates..., which is supposedly a book inscribed from a book that the devil wrote himself. Corso is supposed to track down the only two other surviving books and make sure Balkan's is authentic and see if the others are as well. It doesn't end up being a standard job though, as a lot of weird things begin happening to Dean along his journey. Say what you will about Roman Polanski, but he is a hell of a filmmaker. Although, The Ninth Gate isn't a masterpiece and you could probably poke holes through the story all day if you wanted too; it's still an extremely fun and absorbing movie. It's made in a really old style much like Rosemary's Baby, so although this was made in 1999 starring Johnny Depp, it looks and feels like it should have been made back in the 70's.  This really is worth the watch. The movie has great pacing and there's a lot of questions it brings up. Some of which are answered, some are kind of left up in the air and to the audience. I really did enjoy The Ninth Gate. It's not Polanski at the top of his craft, but it is still Polanski and it's still pretty brilliant.
Melvin White
Super Reviewer
½
Returning to territory he mined with Rosemary's Baby, this is Roman Polanski's second take on Satanic shenanigans. Johnny Depp stars as Dean Corso, an unscrupulous rare book dealer who often takes on jobs from very wealthy bibliophiles. His latest job sees him having to track down and authenticate three copies of a book said to be able to conjure the Devil himself. Well, given the type of book he's after, it's long before he gets caught up in all sorts of mystery, intrigue, and death. I feel like what I'm about to say applies to most anything, but this really had potential to be good. Besides going back to the Satanic side of the supernatural, the film is a revisit to Polanski's Chinatown in a way, as things play out as a sort of homage/riff on hard boiled film noir. Unfortunately, the film is fairly long, mostly uneventful, and pretty lackluster. It's almost boring in a way I didn't figure a Johnny Depp film could be. It has its moments, but it's largely dull and rathert disappointing. The locations are at least nice, the film is well shot, and the cast, especially Depp, Frank Langella, and Emmanuelle Seigner try their best. They aren't able to salvage things, but it could have probably somehow been worse. If you're just really curious or a completist, then yeah, see it, but for everyone else, just skip right on by.
Chris Weber
Super Reviewer
The Ninth Gate Quotes
There are no approved quotes yet for this movie.