The Ninth Configuration (Twinkle, Twinkle, Killer Kane)
(1980)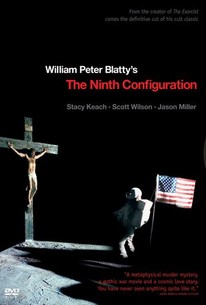 The Ninth Configuration (Twinkle, Twinkle, Killer Kane) Photos
Movie Info
William Peter Blatty, author of The Exorcist, proved a workmanlike producer/director for 1979's The Ninth Configuration. Army psychiatrist Col. Kane (Stacy Keach) (teetering on the sanity brink himself) tries to minister to the patients in a military mental hospital. The fact that the hospital is located in a brooding old castle is hardly conducive to speedy recoveries. Nor does the mid-film barroom brawl indicate that Kane's approach to mental health is all that workable. Blatty adapted the screenplay for The Ninth Configuration from his own novel Twinkle, Twinkle, "Killer" Kane (which also served as the film's title during one of its many releases). It is hard to tell if what you're going to see is the "director's cut," since there are several versions of this film, running anywhere from 99 to 140 minutes.
Critic Reviews for The Ninth Configuration (Twinkle, Twinkle, Killer Kane)
Audience Reviews for The Ninth Configuration (Twinkle, Twinkle, Killer Kane)
½
A Marx Brothers movie, with theology.
Pierluigi Puccini
Super Reviewer
30 years before the disappointing Shutter Island took viewers to a remote mental asylum with a world-turned-upside-down storyline, William Peter Blatty gave us this supremely fucked-up account of a Marine Corp Colonel (played rather brilliantly by the passive Stacy Keach) that is assigned to take over an asylum housing insane soldiers. Col. Kane is especially tuned to the story of a USMC Captain that went nuts right before NASA was supposed to send him to the moon. Throughout all this, Kane recounts how his brother was a sadistic mass-murderer in Vietnam and the backstory only comes to him (and us) in dreams. If you've seen Shutter Island, then you know where this one is going. After halfway through this movie, I hypothesized that this movie was either too fucking brilliant to be understood or too simple to enjoy. Towards the end, I knew it was the former one. VERY quotable, but not for everyone. My wife hated it. I loved it.
Derek Daniels
Super Reviewer
½
It's a considerable struggle to sit through this movie and the rewards don't really justify the trip, but for some reason I enjoyed it in all its tedium. This is probably to the credit of the magnificent Stacy Keach, who turns in an incredible performance here, and the fascinating premise. William Peter Blatty's unsure direction is a little bit threatening, as he can't really anchor the movie into realism (and despite its surreality it requires a presence in the normal world). The initial mystery stays compelling even when the movie itself doesn't and has just enough life to push you through. If you enjoy a good psychological twist but find them too overdone nowadays, The Ninth Configuration should satisfy.
Drew Smith
Super Reviewer
The Ninth Configuration (Twinkle, Twinkle, Killer Kane) Quotes
There are no approved quotes yet for this movie.