Nightwatching
(2007)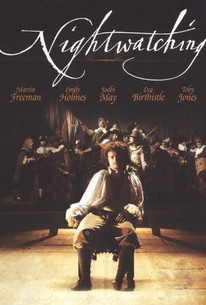 Movie Info
In 1642 Amsterdam was the richest city in the Western World. It was the year that saw the great artist Rembrandt fall from riches into poverty by painting his masterpiece: The Nightwatch. Greenaway's sinuous tale of murder and betrayal meticulously captures the incredible story.
Critic Reviews for Nightwatching
Audience Reviews for Nightwatching
½
Certainly, "Nightwatching" -- writer/director Peter Greenaway's inventive take on Rembrandt's masterpiece "The Night Watch" -- has a brilliant premise. Ever obsessed with detail to queasy extremes, Greenaway revisits the portrait and imagines that it contains veiled attacks upon its pictured military elite. (I suspect his initial inspiration came from snickering at the central figure's hand shadow, which seems to "grope" the crotch of an adjacent man.) Martin Freeman (best known for a much different role in the British version of "The Office") portrays Rembrandt as an incorrigible, vulgar smart-ass. Indeed, his wisecracking manner seems almost anachronistic, though a passing reference to Manhattan suggests that such impressions may be intentional. In a film about a legendary painter which never actually shows him painting, narrative aberrations must be expected. Rembrandt's kindred spirit is his sharp-tongued wife Saskia, who becomes pregnant early in the plot. Unfortunately, this was the 1600's and childbirth was a much riskier procedure. In bearing their son Titus, Saskia has internal complications from which she never recovers. Meanwhile, a dubious group of military noblemen commissions Rembrandt to paint their portrait. He skeptically accepts the job because he needs the money. But once the project becomes underway, he learns of various acts of debauchery, violence and cruelty that these men have committed. So, he decides to subtly incorporate clues about their sins into the painting. Wickedly ingenious. All this is fascinating, but the script makes a poor choice in positioning the work's climactic unveiling (and its subjects' furious response) with about 45 minutes left in the film. From there, the story just treads water. Greenaway mostly uses the extra time to boost the nudity content (which had been unusually low by his standards, up until then). We see the militia wreak its revenge, draining Rembrandt's prestige and fortune, and there's one valuable scene where a character analyzes the differences between "The Night Watch" and the era's more stiffly posed portraits. But elsewhere, the attention paid to Rembrandt's subsequent mistress and second wife seems off-topic -- this is a film about the creation of a painting, not a biography. The theatrical staging, dim lighting and meticulous production design will be familiar to the director's fans, but "Nightwatching" is not as fiendishly structured as some other Greenaway movies and -- except for its length -- it's easier to watch. If you're looking for an entry point to this filmmaker and his uniquely intellectual style, this is one of the better candidates.
Eric Broome
Super Reviewer
½
Let's get the praise (much deserved) out of the way before I tackle the problems I had with this fine film. The production design is awesome, in the biblical sense of that word. Combined with the cinematography, an utterly unique and undeniably ethereal world is created. It feels like the frame is set, and like the grandest of theatre, all the settings come to the frame instead of the camera having to chase down different settings. In this sense, it is one of the most artistically accomplished films I have ever seen. Everything has its exact and fated place in the frame and no visual detail feels rushed or unplanned. The costuming is quite grand as well, and one feels utterly drawn into the world made by this film. Now to the downsides. As the film itself says, it is reaching for a tragedy with English sensibilities, read Shakespearian. It does not wholly achieve that, mainly because the cast of characters is too large to care about every background character's plight, and in the end because we cannot fully experience their tragedy, we cannot feel the tragedy of the central character Rembrandt. The dialogue is often great, but sometimes it tries too hard to fit with Shakespearian conventions of theatrical composition and delivery. When tragedies do strike, they don't feel that tragic because there is this subdued mood that lingers over the whole film; it dampens all emotions and destroys the film's attempts to connect emotionally with the audience. Most people will tune out (or walk out or stop the film) and feel bored, even those accustomed to avant-garde films. Now here's the hardest thing for me to confess: I was very underwhelmed by Martin Freeman's performance and he has to carry this film as Rembrandt. He does do more than I thought him capable of, previously only knowing him from his work as Tim on The Office, but when it comes to breakdown scenes, he can't pull off high decibel emotions without me feeling like I am watching an actor act and not a person feeling. He is great with his few rage scenes and decent at playing the casually witty artiste, but I cannot connect to any of his attempts to display sorrow or see his inner struggles to deal with ethical dilemmas reflected in his face and gestures. Now if you are interested in seeing Martin Freeman nude, full frontal and all, don't miss this film.
_kelly .King
Super Reviewer
½
This movie is about Rembrandt painting his most famous painting called "The Night Watch". Supposedly it is an avant-garde film, but it seemed to be a series non-connected scenes - hard to follow and lengthy. I guess I am not sophisticated enough to appreciate this type of film.
Nightwatching Quotes
There are no approved quotes yet for this movie.