Incubo sulla città contaminata (Nightmare City) (Invasion by the Atomic Zombies)
(1980)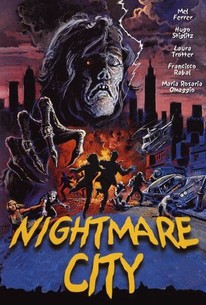 Incubo sulla città contaminata (Nightmare City) (Invasion by the Atomic Zombies) Photos
Movie Info
A radiation-stricken professor contaminates the other passengers on a plane, and after disembarking, the newly created zombies terrorize the surrounding area. The film, also known as Nightmare City, is an Italian production.
Critic Reviews for Incubo sulla città contaminata (Nightmare City) (Invasion by the Atomic Zombies)
All Critics (5) | Fresh (2) | Rotten (3) | DVD (4)
This profound subversion of our critical and aesthetic assumptions confronts us - like a logical paradox that seems both true and false - with a film that seems both awful and entertaining.
Both the crypto-zombies of Nightmare City and the film itself are fast-paced sons of bitches without so much as a whisper of a thought inside their heads.
The movie is piled high with cheese, but makes for a tasty guilty pleasure.
Audience Reviews for Incubo sulla città contaminata (Nightmare City) (Invasion by the Atomic Zombies)
½
Radioactive waste turns people into super-strong blood drinking maniacs. Big, dumb, gory Italian zombie movie, the kind where the monsters "accidentally" rip off their female victim's blouse before ripping out her heart. It's OK if that's what you're looking for, but it's of zero interest outside its genre.
Before there was 28 Days Later there was Nightmare City, a zombie film like no other. A totally different zombie experience, Nightmare City breaks ground in the genre by having faster, more sadistic zombies that George Romero's zombies. Nightmare City is a one entertaining zombie flick with plenty of juicy bits to please the zombie connoisseur. The film is very original and Umberto Lenzi has crafted a little known gem thats waiting to be discovered by hardened zombie fans. Nightmare City is an underrated gem of the genre, and it is fairly obscure. But if you're lucky to find this film and you crave the zombie genre, then watch this film. The film is definitely a different type of zombie film, and it works well because it's so exciting to see something different in the zombie, a much more aggressive type of zombie, and who knows, maybe this gave the inspiration to the faster zombies of 28 Days Later. Nightmare City is a fine director, and he has crafted a memorable zombie film. Nightmare City is a refreshing and totally different zombie going experience, and considering that this was made in the early 1980's, Nightmare City could easily be seen as groundbreaking film in the genre where most zombie films of the era had slow walking zombies. Nightmare City is a must see if you love classic zombie films.
½
I think Hugo Stiglitz is a pretty cool guy, he fights infected people (NOT ZOMBIES) and doesn't afraid of anything.
Tsubaki Sanjuro
Super Reviewer
Incubo sulla città contaminata (Nightmare City) (Invasion by the Atomic Zombies) Quotes
There are no approved quotes yet for this movie.