Night Train To Lisbon
(2013)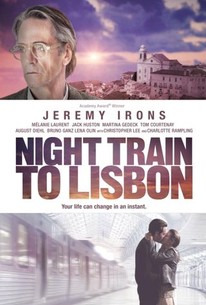 Night Train To Lisbon Photos
Movie Info
Raimund is a Latin teacher and an ancient languages expert. His life is transformed by a young woman on a bridge in the Swiss city of Bern, whom he saves from jumping to her death in the waters below. Raimund is intrigued but the woman disappears, leaving her coat. Inside it is a book by a Portuguese doctor which contains a train ticket. He uses it, setting off on a journey to Lisbon. While looking for the author, Raimund revisits a dark chapter in the country's history and unveils a tragic love triangle. He is drawn into a high-stakes puzzle. Ultimately his journey transcends time and space, touching on matters of history, philosophy, and medicine, encountering love and evolving into a liberating search for the true meaning of life.
Critic Reviews for Night Train To Lisbon
Audience Reviews for Night Train To Lisbon
A ridiculous drama that feels like a cheesy soap opera, completely unaware of the meaning of subtlety and with everything so absolutely obvious and artificial: risible metaphors, a clichéd cinematography, self-help platitudes and an awfully embarrassing dialogue.
Carlos Magalhães
Super Reviewer
½
Eventually delves into Portugal's dark past-interestingly.
hawk ledge
Super Reviewer
This German/Suisse/Portuguese drama directed by Bille August is based on the novel Night Train to Lisbon by Pascal Mercier. Starring Jeremy Irons it had some potential to be great but the screenplay written by Greg Latter and Ulrich Herrmann was too safe with no thrill or unexpected events. The story about a Swiss professor who saves the life of a woman who wanted to commit suicide and then abandons his teaching career and reserved life to embark on a thrilling intellectual adventure to Portugal was actually a story that takes him on a journey to the very heart of himself. The problem is that the adventure was too predictable even with the added thrill elements to keep us interested. [img] http://upload.wikimedia.org/wikipedia/en/thumb/0/0c/Night_Train_to_Lisbon_2013_Poster.jpg/220px-Night_Train_to_Lisbon_2013_Poster.jpg [/img] Somehow this film seemed to me like passed its "Use By" date, especially the way the story was told. The real heart wasn't there as well as the substance. If you are fan of Jeremy Irons - it's worth watching it for the performance. Of course, there are other stars as well: Charlotte Rampling, Christopher Lee, Bruno Ganz... the acting was the strongest part of this movie. You can see some old-world elegance of Bern, the cobbled charms of Lisbon and some panoramic views of Portuguese coastal roads, but don't expect too much of anything else!
Night Train To Lisbon Quotes
There are no approved quotes yet for this movie.