Night Tide
(1963)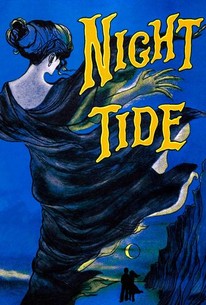 Movie Info
Johnny (Dennis Hopper) is a sailor on leave attending a carnival side show. He falls in love with a woman posing as a mermaid at a Venice California amusement pier before she tries to kill him during a skin diving excursion.
Critic Reviews for Night Tide
Audience Reviews for Night Tide
½
Moody and atmospheric tale of a lonely young man (Dennis Hopper) and his growing affection for a pretty woman, a carny no less, with a strange secret. The cinematography, the sets (Santa Monica pier, circa early 1960's), and the supporting cast all lend themselves to what appears to be a memorable and spooky story, but then the ending drops the ball entirely. Which is too bad. The work becomes forgettable immediately ... but the spirit of the thing hangs on a bit. It wanted to be good.
Kevin M. Williams
Super Reviewer
Atmospherical and low key Val Lewton-esque thriller .
Pierluigi Puccini
Super Reviewer
Dennis Hopper plays a combination of the world's biggest rube and possibly the world's most annoyingly desperate sailor who falls for a girl who may or may not be a psychopathic mermaid. The cinematography has a certain charm and I like Night Tide for that reason alone, but the dialogue and story are cheesy and forced. The score was enjoyable in a weird way, but it definitely didn't fit this movie. The massage scene was unintentionally hilarious and full of double entendres. Do not watch this movie before 1AM on a Friday or Saturday night for the full effect. If nothing else it sets a reasonably great atmosphere. Don't expect anything and you may enjoy it.
Michael Gildea
Super Reviewer
Night Tide Quotes
There are no approved quotes yet for this movie.