Night of the Big Heat (Island of the Burning Damned)
(1967)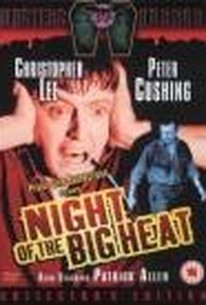 AUDIENCE SCORE
Critic Consensus: No consensus yet.
Movie Info
The famed British horror trio of Christopher Lee, Peter Cushing, and director Terence Fisher brought John Lymington's sci-fi novel Night of the Big Heat to the screen in this slow-moving shocker. The plot concerns a small British island where alien protoplasm creatures are attempting to raise the temperatures to match those of their home planet. The result is a winter heat-wave so intense that most of the island's residents go up in flames. Lee and Cushing are among the few survivors able to battle the malignant extraterrestrial scourge. Fisher proves once again that his deliberately paced directorial style is better suited to Gothic horror than to what should be fast-moving sci-fi. ~ Robert Firsching, Rovi
Critic Reviews for Night of the Big Heat (Island of the Burning Damned)
Audience Reviews for Night of the Big Heat (Island of the Burning Damned)
½
What a weird movie. Alright, I admit I am really into B-Movies. But if a B-Movie could be called a good plane flying under the radar, then this movie is a loop of crash landings and not in your good 'Ed Woodian' Way. And it is a disappointment to Terence Fisher fans. It may be marketed as a Lee/Cushing gem but is missing the class of their other collaborations like Dracula and The Mummy (Cushing only has a guest starring role anyway). Of course, some funny moments lighten up the movie, such as the awfully bad acting, the weird creatures and the nymphomanic young beat-girl taking of her clothes all the time - the movie is from 67 after all. You should stay away from that movie though and rather watch some better Terence Fisher movies that are definitely out there.
Henrik Schunk
Super Reviewer
Night of the Big Heat (Island of the Burning Damned) Quotes
There are no approved quotes yet for this movie.