Night Moves
(2014)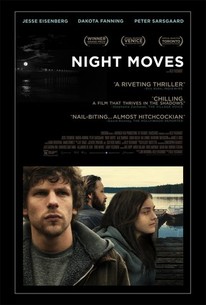 TOMATOMETER
AUDIENCE SCORE
Critic Consensus: A uniquely character-driven thriller with a finely composed cast and some outstanding direction from Kelly Reichardt, Night Moves bolsters its thought-provoking themes with compelling drama.
Movie Info
NIGHT MOVES, the fifth feature film from acclaimed filmmaker Kelly Reichardt, is the story of three radical environmentalists coming together to execute the most intense protest of their lives: the explosion of a hydroelectric dam-the very source and symbol of the energy-sucking, resource-devouring industrial culture they despise. Harmon is a Marine veteran, radicalized by tours of duty overseas. His life in the military is behind him, but at heart he remains the same reckless alpha male he always was, eager for adventure, excited by the prospect of mayhem and destruction. Dena is a high society dropout, sickened by the consumer economy into which she was born. She's moved west and cut ties with her family, edging ever deeper into radical politics. And Josh, their leader, is a self-made militant, devoted to the protection of the Earth by any means necessary. A son of the middle class who works on an organic farm, he's an intensely private person by nature and may have the deepest convictions of them all. NIGHT MOVES is a tale of suspense and a meditation on the consequences of political extremism. When do legitimate convictions truly demand illegal behaviors? What happens to a person's idealism when they find their back against the wall? (c) Cinedigm
News & Interviews for Night Moves
Critic Reviews for Night Moves
Audience Reviews for Night Moves
½
It does a great job letting us slowly find out what it is about instead of resorting to exposition, but what could have been a thought-provoking story about ecoterrorism and environmentalism turns out to be a sterile thriller with a frustrating, utterly predictable second half.
Carlos Magalhães
Super Reviewer
It is a very slow paced thriller drama directed by Kelly Reichardt and written by Reichardt and Jonathan Raymond. Interestingly directed, it had lots of substance which gets even better with the stars Jesse Eisenberg, Dakota Fanning, Peter Sarsgaard, Alia Shawkat, and James LeGros. Another of the films shown in the main competition section of the 70th Venice International Film Festival and at the 2013 Toronto International Film Festival which definitely needs a special attention! The story of three radical environmentalists - Josh, Dena, and Harmon, who are teaming up to execute the most spectacular direct action event of their lives: the explosion of a hydroelectric dam, was more story based and the actors were wisely chosen to make that story more effective. Regarding the story, Edward R. Pressman Film filed a lawsuit in September 2012, demanding that filming cease because of too many similarities to Edward Abbey's novel The Monkey Wrench Gang, planned to be adapted into an authorized film by Henry Joost and Ariel Schulman. Kelly Reichardt did a good job, but I wish it was outstanding! There was plenty of room for improvement, but even this was more than enough for a happy audience. The only problem I really had was the ending. Some people claim that it was a smart decision to live the ending to the viewer, but to me the feel was that something was simply unfinished!
From Jesse Eisenberg at his best, to Dakota Fanning proving she is a worthy actress, you would think that a film like "Night Moves" would have much more to offer than just that, but that is really all I got out of this film in terms of enjoyment. The cinematography is great and the director did an amazing job with the cast, but the story was just not interesting or exciting enough to justify these elements which ended up grabbing my interest and losing it in a matter of minutes periodically throughout this film. In no way is this a bad film, in fact, I can see how some people would call it a masterpiece, but it is a very slow moving picture with little else to offer than technical aspects and great performances. "Night Moves" had a screenplay that did not take any risks and that bothered me a lot. Overall, it is a very well-constructed thriller that I probably will never watch again.
Night Moves Quotes
There are no approved quotes yet for this movie.