Night Moves
(1975)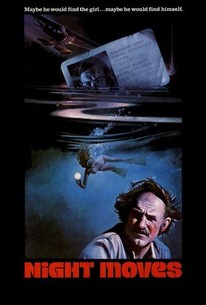 Movie Info
Private eye Harry Moseby is hired by actress Arlene Iverson to locate her missing daughter Delly. Moseby follows a twisting trail of clues to Delly and returns her to her mother. When Delly is killed in a freak accident, Moseby investigates the girl's death and discovers that she was murdered.
Critic Reviews for Night Moves
Audience Reviews for Night Moves
God, I love this film! I watched it last night for the first time in years. It's one that always gets an honourable mention in those lists of the great movies that nobody went to see on first release. Thirty-seven years on, it feels and is paced more like a small character piece than a thriller, but I imagine Warner Bros. had reasonably high commercial hopes for it when it was greenlit, just four years on from Gene Hackman's Oscar-snaffling turn in The French Connection, eight from director Arthur Penn's phenomenal - and phenomenally successful - Bonnie and Clyde. Sometimes you see these neglected gems and it's completely baffling how they failed to find an audience at the time, but with Night Moves I can sort of understand how it slipped through the net. And it's not surprising that the film's critical stock began to rise with the advent of home video, when it became possible to re-examine atypically rich examples of cinema to ones heart's content. In my experience, if there's one thing an audience cannot stand it's a movie that makes them feel stupid, and, simply put - and I don't mean this as a criticism, as the effect is certainly intentional - Night Moves is probably the most forbiddingly opaque and ambiguous thriller of the 1970s. Honestly, if you're one of those people who hates loose ends and likes a nice pat denouement, do yourself a favour and stay well clear of this because it will drive you up the wall! The first time you watch it, it's largely incoherent; the characters and their respective motivations emerge more clearly with each subsequent viewing, but there's still no getting away from the fact that no matter how many times you watch it, the movie remains a riddle without a solution, or rather a riddle with any number of different solutions. R.I.P. Bruce Surtees, director of photography, 1937-2012
½
Everything is low key about this film, until the last thirty minutes when the plot violently unravels. As other great neo noirs of its type, it confronts a man with old fashioned morals and mentality with hypocrite modern day world. Gene Hackman gives another stelar performance.
Pierluigi Puccini
Super Reviewer
½
An interesting neo-noir thriller but that is not near the masterpiece some critics make it be. Doesn't hold a candle to Arthur Penn's real masterpiece, "Bonnie and Clyde"
Matheus Carvalho
Super Reviewer
Night Moves Quotes
There are no approved quotes yet for this movie.