Night at the Golden Eagle
(2002)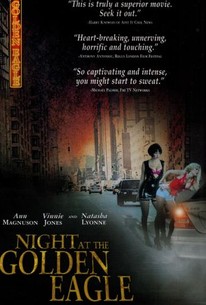 Night at the Golden Eagle Photos
Movie Info
A pair of elderly career criminals may have ended their old lives before they can start a new one in this streetwise drama. Tommy (Donnie Montemarano) and Mic (Vinnie Argiro) are a pair of aging wiseguys who used to work on the fringes of the New York mob. Now in their mid-sixties, Tommy has just been sprung from prison after spending seven years behind bars, and Mick has offered to put him up at his place -- a room in a seedy Los Angeles flophouse called the Golden Eagle, which is overrun by junkies, streetwalkers, and bums with no where else to go. While Tommy's been in stir, Mick has been living the straight life; he's gotten a legitimate job, quit drinking, stopped doing business with prostitutes, and has saved up enough money that he and his best friend can head to Las Vegas and start new lives with real jobs there. However, Tommy isn't so sure he wants to live quite so clean, especially on his fight night out of the joint. Tommy meets another resident of the Golden Eagle, Amber (Natasha Lyonne), an attractive young woman who happens to be a hooker. Not having been with a woman for seven years, Tommy is eager to retain Amber's services, but Amber is working for Rodan (Vinnie Jones), a brutal and short-tempered pimp. Tommy's treatment of Amber manages to anger Rodan, and now Mick and Tommy have to get away from the pimp if they have any hope of getting to Las Vegas (and out of Los Angeles) alive. A low-budget labor of love for director Adam Rifkin, A Night at the Golden Eagle's supporting cast includes James Caan, Ann Magnuson, Sam Moore (of the popular singing group Sam and Dave), Fayard Nicholas (of the legendary dance team the Nicholas Brothers), and Francesca 'Kitten' Natividad.
Critic Reviews for Night at the Golden Eagle
Audience Reviews for Night at the Golden Eagle
Great performances, andnice atmosphere really set the mood here, but it is somewhat ponderous, making it a little tedious to watch at times. Still good though, despite that.
Chris Weber
Super Reviewer
Night at the Golden Eagle Quotes
There are no approved quotes yet for this movie.