New York, I Love You
(2009)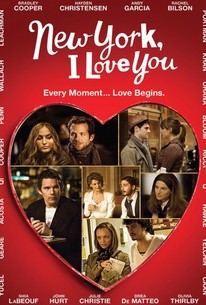 New York, I Love You Photos
Movie Info
Some of the world's most-respected directors align forces to pay tribute to the city of the New York in this unconventional omnibus sister film to 2006's Paris, Je T'Aime. Broken into short segments, New York, I Love You is comprised of ten films, most choosing to take a down-to-earth approach to the stories of the countless lives lived in the city on a given day. The segments are as follows, chronologically: Segment 1 -- Directed by Jiang Wen; written by Hu Hong and Meng Yao; starring Hayden Christensen, Andy Garcia, and Rachel Bilson. Segment 2 -- Directed by Mira Nair; written by Suketu Mehta; starring Natalie Portman and Irfan Khan. Segment 3 -- Written and directed by Shunji Iwai; adaptation by Israel Horovitz. Starring Orlando Bloom and Christina Ricci. Segment 4 -- Directed by Yvan Attal; written by Olivier Lécot and Yvan Attal; starring Robin Wright Penn, Ethan Hawke, Maggie Q, and Chris Cooper. Segment 5 -- Directed by Brett Ratner; written by Jeff Nathanson; starring Anton Yelchin, James Caan, Olivia Thirlby, and Blake Lively Segment 6 -- Directed by Allen Hughes; written by Xan Cassavetes and Stephen Winter; starring Drea de Matteo and Bradley Cooper. Segment 7 -- Directed by Shekhar Kapur; written by Anthony Minghella; starring Julie Christie, John Hurt, and Shia LaBeouf. Segment 8 -- Written and directed by Natalie Portman; starring Taylor Geare, Carlos Acosta, and Jacinda Barrett. Segment 9 -- Written and directed by Fatih Akin; starring Burt Young, Ugur Yucel, and Shu Qi. Segment 10 -- Written and directed by Joshua Marston; starring Eli Wallach and Cloris Leachman. Transitions in between segments -- Directed by Randall Balsmeyer; written by Israel Horovitz, James Strouse, and Hall Powell; starring Emilie Ohana, Eva Amurri, and Justin Bartha.
News & Interviews for New York, I Love You
Critic Reviews for New York, I Love You
Audience Reviews for New York, I Love You
Patchy. Like all movies made up of many short stories, some of it is interesting, some of it may have not bothered.
Nicki Marie
Super Reviewer
The premise seemed to make for an interesting film but there was not much cohesion to it. Some of the stories are either too short or too artsy and left me with a sense of not really "getting it".
Such a great cast, such a waste. "New York, I love You" is a series of short stories about different people in New York, and their relationships. So many stories are meshed together that you really don't care for most of the characters or their situations. I hoped this was going to be a newer "Love Actually." Instead it's a collection of "arty" short films, strung together very poorly. You would think a cast that includes, Bradley Cooper, Orlando Bloom, Shia LeBouf, Natalie Portman, Chris Cooper, Christina Ricci, Justin Bartha, Ethan Hawke, Robin Wright Penn, Cloris Leachman, Maggie Q, Andy Garcia, Blake Lively, James Caan, Hayden Christensen, and Anton Yelchin would be a GREAT movie. Unfortunately, actors don't always make the movie. "New York, I Love You" I hate the yankees, and I hate you too. Don't watch this crap, no wonder I had never heard of it til I saw it on the shelf at the library,
Everett Johnson
Super Reviewer
New York, I Love You Quotes
There are no approved quotes yet for this movie.