New In Town
(2009)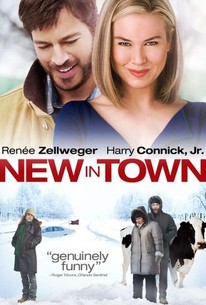 TOMATOMETER
AUDIENCE SCORE
Critic Consensus: Cliched and short on charm, New In Town is a pat genre exercise that fails to bring the necessary heat to its Minnesota setting.
Movie Info
Lucy Hill is an ambitious, up-and-coming executive living in Miami. She loves her shoes, she loves her cars and she loves climbing the corporate ladder. When she is offered a temporary assignment--in the middle of nowhere--to restructure a manufacturing plant, she jumps at the opportunity, knowing that a big promotion is close at hand. What begins as a straight forward job assignment becomes a life changing experience as Lucy discovers greater meaning in her life and most unexpectedly, the man of her dreams.
News & Interviews for New In Town
Critic Reviews for New In Town
Audience Reviews for New In Town
Yes, it's got the same old clichà (C)s but it's not so bad it can't be watched.
½
It is a familiar theme - up-and-coming corporate executive comes to town to close down its only plant, but falls in love with town and some guy and does all she/he can to save the town business. For some reason, I was not happy with Renée Zellweger's performance. It is hard to see Renée as a corporate executive.
New In town had to potential in being a good film. Unfortunately, it's an awful mess of a romantic comedy that relies on the same old repetitive clichés. New In Town was a boring, unimpressive film that proves once again that Renee Zellweger can't act. The film is boring, dull and poorly executed. I hated the film. I found the jokes to be uninteresting, and if they were supposed to be funny, I forgot to laugh. This is a pointless romantic comedic with a bad cast (aside from J.K Simmons, who's wasted here), this film is terrible. Director Jonas Elmer can't craft an effective plot, or direct a good film for that matter. The film lumbers along like your typical romantic comedy, and doesn't do anything new with the formula. The best way I could describe this film, is simply that it's a waste of time. The film simply wasn't entertaining. The cast wasn't good and the plot was dull, uninteresting, and you lost interested halfway through. New In Town is one of those films that you wish was never made. The film doesn't do anything whatsoever to immerse you into its story. Instead, the film irritates you, and makes you wish it was over. Of all the romantic comedies that I have seen, New In Town is one of the worst. Writing wise, acting wise, the film absolutely doesn't cut it. This a mess of a film that uses overused clichés to try and create something refreshing, but it doesn't work. New In Town is a boring, poorly crafted film that is worth avoiding!
New In Town Quotes
There are no approved quotes yet for this movie.