New Best Friend
(2002)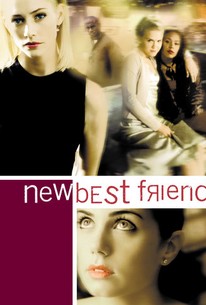 Movie Info
Three rich, pretty people befriend their poor, mousy classmate and live to regret it in this teen-centric thriller. Alicia (Mia Kirshner), Hadley (Meredith Monroe), Julianne (Rachel True), and Sydney (Dominique Swain) are four students enrolled in the same sociology class at Colby University, an exclusive and respected college in the Carolinas. Alicia is a local girl born into modest circumstances who struggles to make ends meet and rarely gets a second look from the male students on campus, while Hadley, Julianne, and Sydney are close friends who all come from wealthy families and seem more concerned with partying than their studies. Alicia and Hadley are paired up to work on their semester project for the class, which is to be centered around the theme "Lead, Follow, or Get Out of the Way." As part of the project, Hadley decides to befriend Alicia, and brings her into her social circle. At first, Alicia seems more than grateful for the attention of her new friends, and blooms under the influence of Hadley, Julianne, and Sydney. But it isn't long before Alicia's personality begins to shift; she develops a powerful appetite for drugs and alcohol, and soon begins taking advantage of her new friendships. Things come to a head when Alicia seduces Sydney's boyfriend, Josh (Oliver Hudson), and soon Alicia ends up in the hospital after OD'ing on drugs. Artie Bonner (Taye Diggs), a local sheriff, begins looking into Alicia's case, convinced that her near-fatal accident with drugs was no accident at all.
Critic Reviews for New Best Friend
Audience Reviews for New Best Friend
Not terrible, but not very good, either.
Erin Collins
Super Reviewer
New Best Friend is entertaining trash that we find ourselves engrossed in as much as we hate to admit it. Mia Kirsher delivers a stellar performance as Alicia, a college girl who overdoses under suspicious circumstances and the prime suspects are her new upper class filthy rich friends. Sheriff Artie Bonner (Taye Diggs) is called by the Dean (Edmund J. Kearney) to carry out a discreet investigation, since the school is dependent on the wealthy families of its rich students, and a scandal would jeopardize its reputation and consequently its income. But as he looks deeper into his investigations, he discovers that the seemingly innocent and perfect student Alicia might not be all that she appears to be. We've got sex, drugs, and nudity, Dominique Swain (playing the cheeky deviant Sydney) getting naked here and engaging in lesbian sex with Alicia. Meredith Monroe plays a darker role than her role as Andie on Dawson's Creek and is convincing as the Queen Bee of this elite clique.
Wait? Huh? What is this film about? hanh? Fitting in? "New Best Friend" is "Utterly Inane and ucomprehensible. Blurry Lesbian Sex,Drug parties,missing dialouge,and answers. This is one of the worst films to do about basicly nothing. Two Middle Fingers Up!" No More Comment!
Joseph Eastmond
Super Reviewer
New Best Friend Quotes
There are no approved quotes yet for this movie.