Never Been Kissed
(1999)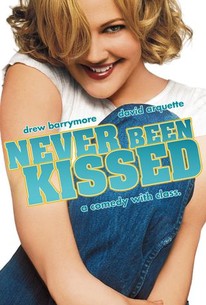 Movie Info
Many people wish they could go back to high school, knowing what they know as an adult; Josie Geller gets the chance to do just that in the comedy Never Been Kissed. Josie (played by Drew Barrymore) is a 25-year-old copy editor at a newspaper in Chicago. But it's her youthful looks as much as her journalistic skills that finally win her a writing assignment: she's ordered to enroll in high school posing as a teenager for a story on the state of America's youth. Trouble is, Josie was a hopeless nerd in high school (called "Josie Grossie" by her classmates); she had no idea of how to fit in with the cool kids, and she's hardly gotten any better at it in the seven years since graduation. While Josie makes fast friends with a bookish girl named Aldys (Leelee Sobieski), and also takes notice of her good-looking English teacher Mr. Coulson (Michael Vartan), she realizes for the sake of her story she has to infiltrate the cool girls' clique, which will be impossible without someone to give her a crash course in hipness. Josie's brother Rob (David Arquette), obviously the more style-conscious sibling, offers to sign up for the same school to act as the cool-guy friend she'll need to fit in, but just when Josie starts making headway (and starts enjoying high school for a change), her editor changes the focus of the story -- he now wants a feature on improper relations between teachers and students, which will not be good for her deepening friendship with Mr. Coulson. Never Been Kissed also features supporting performances from John C. Reilly, Molly Shannon and Jordan Ladd (the latter in a much more wholesome vehicle than her last cinematic visit to cinematic teen-town, Gregg Araki's Nowhere). ~ Mark Deming, Rovi
News & Interviews for Never Been Kissed
Critic Reviews for Never Been Kissed
Audience Reviews for Never Been Kissed
All time favorite chick flick of mine. Just rewatched it again and still love it just as much. One of Drew's best and I like LeeLee Sobieski in this too. People in recent articles saying it's problematic due to the teacher relationship are really missing the point that she's 25 years old and nothing actually happens until she admits as much. Honestly I just find this sweet and amusing and kind of sad too with the Josie Grossie stuff.
Nicki Marie
Super Reviewer
I love Drew in these rom coms. She plays a geeky girl who goes back to high school as an undercover reporter.
Candy Rose
Super Reviewer
This is a movie I loved when I was younger, but as I got older it got more ridiculous and less funny. It has a story that has been used in other films, but Barrymore gives it a fresh, cute feel, and it has heart too, so I still like it.
Never Been Kissed Quotes
There are no approved quotes yet for this movie.