Neon Flesh
(2012)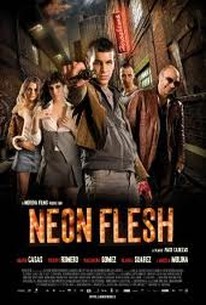 AUDIENCE SCORE
Critic Consensus: No consensus yet.
Movie Info
Full of style and wild humor, Neon Flesh is a high-energy crime thriller centered around Ricky and the underground world that he lives in. His prostitute mother, Pura, abandoned him when he was 12. Now a young man, he wants to honor her by opening up a brothel when she is released from prison. For help he enlists a pimp, his junkie girlfriend, and a transsexual who believes that she's royalty, but when he finally picks Mom up from the hospital, he's disappointed to learn that she's underwhelmed with his gift. Worse, the location Ricky chose for the brothel encroaches on ruthless thug El Chino's domain. -- (C) Tribeca
Critic Reviews for Neon Flesh
All Critics (2) | Fresh (0) | Rotten (2)
If Neon Flesh is any indication, writer-director Paco Cabezas is a deeply confused Guy Ritchie rip-off artist.
Just another Tarantino photocopy without unique style or verve.
Audience Reviews for Neon Flesh
½
You know, I wouldn't be very honest if I didn't mention this film's similarities to something that Tarantino or Guy Ritchie would do. In fact it feels like a collaboration between these two men where Ritchie got most of his stuff in because Tarantino was busy with his other projects and then sold to Paco Cabezas to film as he saw fit. Of course that's now how the film really was, but it's obvious who influenced Paco Cabezas to write this film. Even with that said, I still really enjoyed this film. I thought it was stylish and entertaining. The story isn't anything to write home about but the film is littered with interesting characters. Not necessarily the most complex of characters, but all had their own little stories and that certainly is good. Unfortunately, in its last act, the movie does get increasingly convoluted as you see how all the characters are connected, but it wasn't really that much of a detriment to the film overall. But it just got a little far-fetched. The cast is solid and Mario Casas, the protagonist, while not necessarily great, does have some potential. He sort of reminds me of Tom Hardy and Channing Tatum and he's already better than one of them...guess who???? The rest of the cast definitely picks up the slack though with their chemistry. The writing is good, certainly very swear-heavy but still good and there's some good amount of comedy here. I wouldn't say this film is perfect by any means and Paco Cabezas certainly wears his influences on his sleeve, but I had fun watching this film. It's not something you'll remember for the rest of your life but it is entertaining.
Jesse Ortega
Super Reviewer
Neon Flesh Quotes
There are no approved quotes yet for this movie.