Ne Te Retourne Pas (Don't Look Back)
(2009)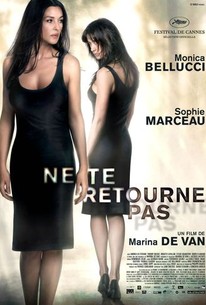 Ne Te Retourne Pas (Don't Look Back) Photos
Movie Info
Not to be confused with the legendary D.A. Pennebaker documentary of the same name, this mind-bending psychological drama from France stars Sophie Marceau as Jeanne, a fairly well-adjusted wife, mother of two children, and author whose world gets turned upside down when she becomes aware of a calamitous transformation overtaking her own body. She quickly morphs into an Italian woman, also named Jeanne (Monica Bellucci); the latter's husband (like the first Jeanne's spouse) is named Teo (Thierry Neuvic). Understandably confounded and disoriented, Jeanne 1 sets out to solve the mystery of this metamorphosis by journeying to Jeanne 2's birthplace of Lecce, Italy.
Critic Reviews for Ne Te Retourne Pas (Don't Look Back)
Audience Reviews for Ne Te Retourne Pas (Don't Look Back)
In "Don't Look Back," Jeanne(Sophie Marceau) is a successful writer of nonfiction in all of its varieties but cannot get her editor to accept her novel which she is using to try to unearth lost childhood memories. In any case, her and her husband Teo(Andrea Di Stefano) have enough money to afford a videocamera with which they shoot footage of their two children in an attempt to have something to embarrass them later as adults. Strangely, Jeanne notices not only them signaling on the tape but also changes in the apartment which she at first puts down to Teo moving around the furniture behind her back. If only it was all that simple... "Don't Look Back" has an intriguing windup and some memorable images. However, outside of one scene that hits the mark with unsettling accuracy, the payoff is kind of disappointing, as it leaves as many questions unanswered as it resolves. And it is not just that the movie does not go far enough.(For example, if Jeanne had been turning into Bob Dylan, that might have been too disturbing.) It is also that this wastes a valuable opportunity to explore via analogy the changes that women go through as they age.
½
"I don't recognize anything. Not even my own face." Don't Look Back isn't an easy movie to wrap my thoughts around and review, and unfortunately, it also wasn't very appealing. Despite the irresistible presence of Sophie Marceau and Monica Bellucci, I found it hard to finish this movie. That's quite an accomplishment, now that I think about it. What we have here is an effort to communicate the perspective of a woman whose home, family, and very appearance seem to be (literally and drastically) changing before her eyes. It confuses her, and I can virtually guarantee that it will confuse you, too. Don't Look Back is not a challenging movie (I'm guessing that's the intent with which it was created), it's a nonsensical one. There's a definite attempt here to make a psychological thriller in the mold of Polanski's Repulsion mixed with a hefty serving of Lynch-style weirdness and mystery, but it's not grounded in anything substantial, captivatingly surreal, atmospheric, or ultimately human. At best, it's this movie is based on a potentially good idea run horribly amok. At worst, it's an overly long train-wreck with no point that unfortunately squanders two stunning and talented actresses. Aside from one of two interesting sequences, Don't Look Back isn't worth the trouble or the frustration.
½
A French writer loses her ability to recognize her surroundings; her apartment becomes unfamiliar, her husband looks like a stranger, and eventually even the face she sees in the mirror is another woman's, until she follows a clue in a photograph and discovers a secret about her own identity. This psychological mystery is a bit slow moving and the movie lays on the horror music cues a bit too thick, but Sophie Marceau and Monica Bellucci give wonderful performances as the same woman in two different bodies.
Ne Te Retourne Pas (Don't Look Back) Quotes
There are no approved quotes yet for this movie.