Ne le Dis à Personne (Tell No One)
(2006)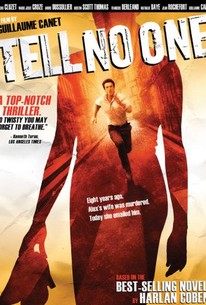 Ne le Dis à Personne (Tell No One) Photos
Movie Info
An innocent man is on the run after he's accused of murder and his spouse seemingly returns from the grave in this thriller from France. Alex Beck (François Cluzet) is a doctor who has slowly been putting his life back together after his wife Margot was murdered by a serial killer. Eight years on, Alex is doing well enough until he finds himself implicated in the murder of two people, with plenty of evidence pointing to him as the killer even though he knows nothing of the crimes. The same day, Alex receives an e-mail that appears to be from Margot (Marie-Josée Croze), which includes a link to a video clip that seems to be recent and features his late wife looking alive and well. Margot's message warns Alex that they are both being watched, and he struggles to stay one step ahead of the law as a gang of strong-arm men intimidate Alex's friends into telling whatever they might know about him. Alex's sister Anne (Marina Hands) persuades her well-to-do lover Helene (Kristin Scott Thomas) to hire a well respected attorney, Elisabeth Feldman (Nathalie Baye), to handle Alex's case. While Elisabeth tries to keep Alex out of jail, she learns that her client has a warrant out for his arrest, and Alex goes on the lam while he and his lawyer struggle to find out the truth about the murder as well as Margot's reappearance. Tell No One (aka Ne Le Dis a Personne) was based on the international best-selling novel by Harlan Coben. ~ Mark Deming, Rovi
News & Interviews for Ne le Dis à Personne (Tell No One)
Critic Reviews for Ne le Dis à Personne (Tell No One)
Audience Reviews for Ne le Dis à Personne (Tell No One)
½
Excellent movie. Good, and believable acting. Fast paced, satisfyingly intricate plot with lots of suspense. This was not one of those films where you can foresee how things are going to work out--and are usually disappointingly right-- after the first few minutes. Far superior to the other foreign films I have seen in this genre. Very well done!
Cynthia S.
Super Reviewer
½
A good little French thriller based on a novel by Harlan Coben. A doctor whose wife was brutally murdered eight years before receives an e-mail purporting to have been sent by the dead woman herself. Meanwhile, the police have reopened the case in the light of fresh evidence, all of which - unfortunately for him - points to the husband as the killer. Although the plot eventually twists and turns itself beyond the bounds of plausibility, Tell No One remains an intellectually stimulating and - thanks to the strong central performance of François Cluzet - an emotionally satisfying piece of work. Beware, a Hollywood remake is in the offing :S
Sometimes, Ne le Dis à Personne should have chosen to go for the drama instead of so much thriller, or the opposite. But it had to chose and it remained uneven between both. Both sides still worked and made of it all a great movie that deserved all the recognition,
Emile Tremblay
Super Reviewer
Ne le Dis à Personne (Tell No One) Quotes
There are no approved quotes yet for this movie.