Natural City
(2004)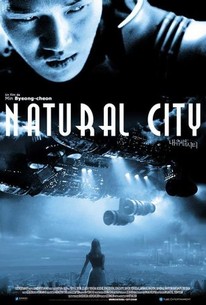 Movie Info
The cyborgs created to serve mankind have revolted, and now the military man sent on a mission to save mankind find himself torn between his duty and his love for the cyborg that serves him in the sophomore feature from Korean filmmaker Byung-chun Min. The year is 2080, and after a devastating war nearly wipes out the human race, artificial intelligence is used to create a race of powerful cyborgs. Designed to experience human emotions and created to serve only one master from the day they are born to the day their die, the cyborgs faithfully carry out their duties until a rising rebellion finds humanity's children taking their fate into their own hands. When military squad leaders R (Yoo Ji-tae) and Noma (Yoon Chan) are assigned the task of quelling the rebellion before the violence spirals out of control, R has trouble carrying out his duties as a result of his deep-rooted feelings for his own cyborg Ria (Seo Rin).
Critic Reviews for Natural City
Audience Reviews for Natural City
½
A renegade cop who is selling illegal AI chips on the black market to fund his obsession with an android dancer goes head to head with a terrorist trying to use the technology for his own nefarious ends. Blade Runner goes manga in this Korean sci-fi which takes the basic story of Scott's masterpiece and throws in a load of Matrix-style action sequences and Asian techno-babble, pretty much ruining everything about the idea that made it good. The biggest problem with the film though is the weak characterisation which makes it very difficult to care about anyone involved. The protagonist comes across as a corrupt, obsessive drunken asshole rather than complex anti-hero, and his robotic lap dancer who acts like a zombie with Parkinson's just doesn't work as romance because we never really see how it blossomed. The same is true of the friendship between he and his partner, making his redemption at the end meaningless. It does have a few stylish action sequences and the production design is very nice but the plot doesn't really hang together, and without characters you can root for it all seems a bit pointless.
½
Natural City is a film that you will almost always hear being compared to Ridley Scott's Blade Runner. This isn't Blade Runner, but this is really one of the closer films to it. I guess you can call this the "Korean Blade Runner."
This film isn't about the hunting down of cyborgs, although you do have that in here. The main part of the story deals with a human in love with a cyborg. Don't be afraid by that, because this film plays out nothing like a romantic drama. It is far from it. You have a futuristic city and cyborgs walking around. This sounds like a sci-fi thriller and that is what you get.
Not surprisingly, this is a slow burn rather than an fast action adventure. This film runs at almost 2 hours and the matrix type of action takes up little of that time. This is a little disappointing since Doo-hong Jung, one of the greatest martial artists out of Korea, plays the villain.
While the action may be lacking, the story is in tact. It isn't as deep as some may like, but it is more than enough to carry this film.
Visually, this movie is fantastic. The setting is believable and it has that dark feeling just like Blade Runner. The futuristic elements aren't over done either. There is still a sense of realism in the year 2080.
The actor choices are fitting, although some of the characters do suffer from little background and airtime. Ji-tae Yu succeeds with the lead, Jae Eun Lee is a good supporter, and Rin Seo is a lovely cyborg.
This film may take a bite from Blade Runner, but it does have other elements to stand on its own. Sci-fi fans will come to appreciate this.
It's Blade Runner alright but not as we know it. Taking on similar themes and a similar plot Natural City struggles to find its voice. It does accomplish this however through the simply breathtaking visuals on display, from the sets to the CGI and even the costumes. The film is so proud of its grandeur that during the closing credits a series of pre-production sketches are shown. The action scenes are also not to be sniffed at, creating a genuine thrilling experience. It does however collapse under its own weight, with the plot being stretched to 2 hours where 100 minutes would have sufficed.
Luke Baldock
Super Reviewer
Natural City Quotes
There are no approved quotes yet for this movie.