Nanook of the North
(1922)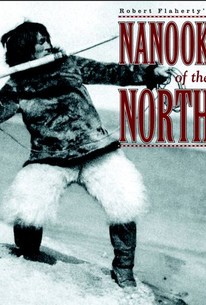 TOMATOMETER
AUDIENCE SCORE
Critic Consensus: An enthralling documentary and a visual feat, Nanook of the North fascinates with its dramatic depiction of life in an extremely hostile environment.
Movie Info
Nanook of the North is regarded as the first significant nonfiction feature, made in the days before the term "documentary" had even been coined. Filmmaker Robert Flaherty had lived among the Eskimos in Canada for many years as a prospector and explorer, and he had shot some footage of them on an informal basis before he decided to make a more formal record of their daily lives. Financing was provided by Revillion Freres, a French fur company with an outpost on the shores of Hudson Bay. Filming took place between August 1920, and August 1921, mostly on the Ungava Peninsula of Hudson Bay. Flaherty employed two recently developed Akeley gyroscope cameras which required minimum lubrication; this allowed him to tilt and pan for certain shots even in cold weather. He also set up equipment to develop and print his footage on location and show it in a makeshift theater to his subjects. Rather than simply record events as they happened, Flaherty staged scenes -- fishing, hunting, building an igloo -- to carry along his narrative. The film's tremendous success confirmed Flaherty's status as a first-rate storyteller and keen observer of man's fragile relationship with the harshest environmental conditions. (In a sadly appropriate footnote, Nanook, the subject of the film, died of starvation not long after the film's release.)
Critic Reviews for Nanook of the North
Audience Reviews for Nanook of the North
½
This is widely regarded as the first significant nonfiction feature film, and this was made during the days before the term documentary came into existence. That makes this film significant and of interest, but even more of interest is the film's legacy, which happens to be steeped in controversy. First, a quick rundown of the plot: what we get is the story of an Inuit fisherman named Nanook who lives with his family up in the far reaches of Northern Canada. Robert Flaherty, the director, presents us basically with a series of sequences of Nanook and his family and companions going about their daily lives and trying to survive the harsh wilderness. Flaherty started out as a prospector and explorer, and, after spending a lot of time among Inuits, decided to get a camera and make a formal recording of their lives. Here's where things gets tricky. This was made in the late 1910s/early 1920s, and it presents things as if they are happening in the present. In reality, this film depicts the Inuit culture of days gone by, but makes it seem like things aren't as modern as they actually were at the time. Now, given how documentaries as we know them didn't exist at the time, Flaherty was more or less able to get away with the use of staged sequences. In this day and age though, he'd be in a crap load of trouble for this kind of thing. So yeah, don;t think of this as a documentary in the modern sense, but look at is as a docudrama-that's a more fitting term. And what also makes the film worthwhile, again, has to do with its age. At that time, not as much was known about various ethnic groups and cultures, especially when there was no internet, so this film works as a nice cultural piece, even if Flaherty's nostalgia goggles for the 'glory days' of Inuit life are presented as 'present'. Despite the dark spots, this is a pretty neat little film in its own right. It's simple and straightforward, but nevertheless engaging, fun, and even charming. It might not be perfect, especially due to it's tainted legacy, but I think that, even then, it's worth a look.
Chris Weber
Super Reviewer
As far as documentaries go, "Nanook of the North" is a great one! It tells the true story of an inuit family who scavenges to find food and shelter. Having a smart father helps, when he is able to build his family an igloo. With luck, they are able to find fish, walruses, and seals. It is fun to watch this at times, as the children of the family have a fun old time, trying to create tobaggans to slide down the hills while their father is at work; However, the things that make this film a little hard to watch, is the fact that you are forced to watch as the starving family has no time to cook their food once it is caught, due to starvation. This film features some far out camera shots, expressing the isolation of these real-life people. It has the feel of a classic silent film and the directing is great. The only fault with this film is that it focuses too much one aspect of their journey. Otherwise, this is a terrific documentary!
A ground-breaking documentary on the life of a family of "Eskimos" as they try to survive in the cold of a Hudson Bay winter. Robert Flaherty gave the world an insight into the lives of a people unlike any they had seen before. This film is the grandfather of every "Day in the Life" doc since. It's said that many of the scenes were staged -- some by necessity due to the limitations of filmmaking of the time -- but that doesn't take away from the impact of the film. Most parts of the family's life is on display...eating, hunting, play and sleeping all play a part in this film. Particularly fascinating is the footage on building an igloo from blocks of packed snow, including a "window" made from clear ice. They even made a tiny igloo for a litter of puppies! One humorous scene shows Nanook, the head of the family, getting out of a kayak, with his entire family -- wife Nyla, another woman (mom, sister?), three children and a dog following right behind. Funny because they all crawled out of the bottom of a boat that appeared to hold only one person. If this film has any flaws, it's that I wanted to know more about these people and their lives. What were their clothes made of? Where did they go to the bathroom? What language did they speak? Did the children go to school? One cautionary note: There are several scenes of apparent cruelty to animals, including sled dogs left out in brutally cold weather, and graphic scenes of hunting and butchering animals, and the eating of raw animal flesh. A fascinating film that hasn't lost its power even after nearly 90 years.
Nanook of the North Quotes
There are no approved quotes yet for this movie.