Nacho Libre
(2006)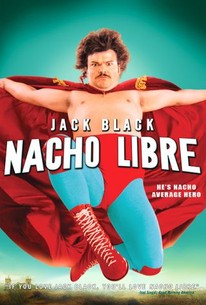 TOMATOMETER
AUDIENCE SCORE
Critic Consensus: At times hilarious, but other times offensive, Director Jared Hess is unable to recapture the collective charisma of his Napoleon characters, instead relying on a one-joke concept that runs out of steam. Sure to entertain the adolescents, however.
Movie Info
Jared Hess (of Napoleon Dynamite fame) directs this bizarre comedy starring Jack Black as Nacho, a young man who works as a cook in the Mexican monastery where he was raised. When the institution faces a financial crisis, Nacho decides that he must come to the aid of the house of God (as well as the beautiful young nun who has recently joined the order) by competing in the local Lucha Libre tournament. Donning a spandex outfit, mask, and cape, Nacho becomes a hero for the ages -- but can he win the heart of a woman of the cloth? ~ Cammila Albertson, Rovi
News & Interviews for Nacho Libre
Critic Reviews for Nacho Libre
Audience Reviews for Nacho Libre
mostly funny, very entertaining and quirky film. i understand the affinity many have for it, especially younger people who may have seen it in their teen years. i know my kids dig it, and watching it with them is always fun.
Jack Black is mostly his usual self as a cooking Mexican monk who dreams of becoming a pro wrestler and suddenly has a chance to go down that path while having to keep it a secret from the monastery. Which basically means, you get what you're expecting from such a film. The humor is hit and miss, with a couple of good laughs and as many awkward silences. Wrestling fans at least should have fun with the fights, even if a couple of them could have been much longer. Nothing big to write home about, but entertaining enough for fans of this humor who have nothing else to do on a rainy afternoon.
½
Nacho Libre is a surprisingly decent comedy with Jack Black, whom I never really was a big fan of. This is a fun, whimsical comedy and is one of the better films with Jack Black. Nacho Libre is a decent flick with a few good laughs here and there, but is never anything great. What makes this film a slight misfire is the fact that Jack Black basically plays the same character he's been playing from the beginning of his career. The humor is good, better than I thought. Considering that this is Jack Black film, this is a pretty decent flick. I normally hate his stuff, but there's something about Nacho Libre that I enjoyed. This film is a decent comedy to watch with your family, and it delivers some laughs here and there. The film could have been better. The result is an entertaining comedy that delivers laughs, but you realize that something is missing from this film to truly create something memorable. Overall, this is a charming film that almost gets the job done. Nacho Libre is mindless fun from start to finish, and despite the fact that it's not perfect, it manages to be fun entertainment. The film is worth watching, and compared to other Jack Black films, it's better too. Though not perfect, this film is fun, and if you enjoy a mindless comedy, this is the perfect flick for you to watch. Definitely one of the better Jack Black films that I've seen.
Nacho Libre Quotes
There are no approved quotes yet for this movie.