Mysterious Skin
(2005)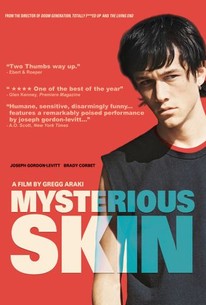 TOMATOMETER
AUDIENCE SCORE
Critic Consensus: Bold performances and sensitive, spot-on direction make watching this difficult tale of trauma and abuse a thought-provoking, resonant experience.
Movie Info
"The summer I was eight years old, five hours disappeared from my life. Five hours, lost, gone without a trace..." These are the words of Brian Lackey, a troubled 18-year-old, growing up in the stiflingly small town of Hutchinson, KS. Plagued by nightmares, Brian believes that he may have been the victim of an alien abduction. Local Neil McCormick however, is the ultimate beautiful outsider. With a loving but promiscuous mother, Neil is wise beyond his years and curious about his developing sexuality, having found what he perceives to be love from his Little League baseball coach at a very early age. Now, 10 years later, Neil is a teenage hustler, nonchalant about the dangerous path his life is taking. Neil's pursuit of love leads him to New York City, while Brian's voyage of self discovery leads him to Neil -- who helps him to unlock the dark secrets of their past.
News & Interviews for Mysterious Skin
Critic Reviews for Mysterious Skin
Audience Reviews for Mysterious Skin
A college freshman who believes he was abducted by aliens searches for his old Little League teammate, now a male prostitute, thinking he holds the clue to the mysterious events of his childhood. Something like MIDNIGHT COWBOY with a bit of "The X Files" thrown in, this painful and graphic drama explores how similar traumas can produce opposite effects.
½
Mysterious Skin has an interesting idea for its plot, and frankly is a pretty disturbing film. The film has an engaging story and a good cast. At the center of the film is Joseph Gordon Levitt in the role of Neil McCormick, who is a homosexual hustler and has had a dark childhood by being sexually assaulted by his pedophile baseball coach. Mysterious Skin then follows Neil on his quest to finding what actually happened those many years ago, as many of those events were a blur. The film is terrific, but as I've said it's also fairly disturbing. The cast do a fine job here and the story has enough momentum to keep you entertained, eve3n though it's fairly slow, the story is always engaging and dramatic. Actor Joseph Gordon Levitt is excellent in the role of Neil, and he really brings out one of his best performances. I felt that Levitt added a certain a certain cocky innocence to character. Mysterious Skin is a well crafted film by director Greg Araki, however because of its story; it won't appeal to many viewers. This is really the type of film that can divide an audience. Despite the subject matter, Mysterious Skin is a solid film with minimal flaws. The great cast and directing keep this film afloat and everyone involved really make this a good film. Mysterious Skin is a terrific drama film that you shouldn't pass up on, love it or hate it, this is a powerful film.
Honestly speaking, I did not expected what I have seen in this movie. I did not read the story line because I like surprise. I just look at the genre and that's it. But for this, I looked at the rating and saw this. It does happens in real life, yeah sad but true. But this is not my taste. It's very disturbing.
Dead Angel
Super Reviewer
Mysterious Skin Quotes
There are no approved quotes yet for this movie.