My Summer of Love
(2004)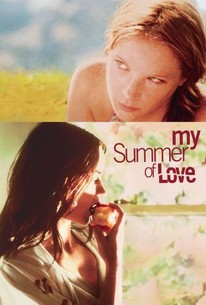 Movie Info
Two 16-year olds spending one long, hot English summer together in Yorkshire. Mona is a tough Northern lass whose spiky exterior hides an untapped intelligence and a yearning for something beyond the emptiness of her daily life. Tamsin is well educated, cynical and spoiled, and, unlike Mona, incapable of love. At first Mona and Tamsin's distinctly opposite cultures, backgrounds and characters cause them not to understand or trust each other, but gradually these differences lead to mutual fascination and attraction. Added into the volatile mix is Phil who, despite his troubled past, has now found divine love which he hopes will save himself and Mona.
News & Interviews for My Summer of Love
Critic Reviews for My Summer of Love
Audience Reviews for My Summer of Love
Well, im not 100% sure as to why this is a really liked movie, i didn't think there was very much too it, a compulsive liar, another one who is a bit rebellious fall in love, small town so cant keep it a secret so it doesnt last hence the title! I mean theres not a lot going on so i dont know why its such a big hit! Emily Blunt is great but i think her talents are wasted in this pointless gay interest drama!
Film Crazy
Super Reviewer
Alienated by her brother's conversion to born-again Christianity, a young woman finds companionship and love with an equally abandoned upper class girl. The highlights of this film are the performances by the leads, Natalie Press, the always exceptional Emily Blunt, and the woefully under-used Paddy Constantine. Each actor is believable and gives a compelling performance. Though I'm partial to Constantine, who had the greatest challenge in making what could have been farcical real, Blunt and Press are both alluring and tortured. I did have problems with the film's story and direction. The story is so lackadaisical and slowly built that whatever energy the actors and the story's inherit conflict could engender was dissipated. Also, the camera randomly jump-zoomed on certain actors at rare times. I didn't understand the motivation for it -- it seemed like a child had pressed a button he shouldn't have. Overall, when the film held my attention, it was because of the actors' work, but had the director picked up the pace, I think My Summer of Love would have been an excellent film.
Jim Hunter
Super Reviewer
My Summer of Love is comparable to Peter Jackson's Heavenly Creatures in some ways. Both movies are about two unhappy, bored teenage girls (played here by Emily Blunt and Natalie Press) from wildly different backgrounds who meet and quickly form an intense bond because of their sense of humor and intelligence, and their lack of similarity to those around them. And also like Heavenly Creatures, the threat of the two girls being separated spurs some rather dark consequences for several people. I liked My Summer of Love, but it was a fair distance from perfect. The camera work was needlessly busy and distracting, and it took me the majority of the movie to get used to it. And it's a little slow at times. It also seemed like the story was a little muddled. Ambiguous or open-ended stories are fine, but Summer of Love veered towards frustration once or twice. The best parts of the movie were Emily Blunt, Natalie Press, and Paddy Considine. They're really the only main characters, and each of them does an excellent job portraying flawed people.
My Summer of Love Quotes
There are no approved quotes yet for this movie.