My Friend Irma
(1949)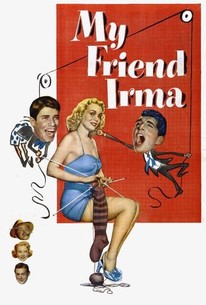 AUDIENCE SCORE
Critic Consensus: No consensus yet.
Movie Info
My Friend Irma was supposed to be a straightforward adaptation of the popular radio sitcom of the same name. The film's focus therefore was supposed to be on air-headed Irma Peterson (Marie Wilson), her levelheaded roommate, Jane Stacy (Diana Lynn, taking over from the radio series' Cathy Lewis), and their various romantic misadventures. But the audience tended to ignore Irma, Jane, and the others in favor of two movie newcomers: Dean Martin and Jerry Lewis, cast respectively as would-be singer Steve Laird and dumb-dumb restaurant employee Seymour. Having risen to the top of the heap in the nightclub world, Martin and Lewis were discovered for films by producer Hal Wallis, who decided to test the boys out in secondary roles in an established property. Wallis felt that while Martin had potential as a singing star, Lewis was hopelessly inept as an actor. As the whole world knows by now, it was Lewis who ended up as the team's main attraction with his own inimitable brand of wacko humor. Even as early as Irma, Lewis manages to dominate every scene he's in, often by sheer force of will. Pretty soon, the viewer has forgotten the gossamer-thin plot (Irma's Runyonesque boyfriend, Al, played by John Lund, tries to promote Dino into stardom) and is waiting anxiously to get back to Jerry. When time came for the 1950 sequel, My Friend Irma Goes West, virtually the entire plot revolved around Martin and Lewis, with the official "stars" relegated to supporting roles. Like Marie Wilson, several of the My Friend Irma cast members were holdovers from the radio series, including Hans Conried as Professor Kropotkin. Felix Bressart had originally been slated to play Kropotkin on film, but when he died during shooting, Conried was brought in to complete his scenes (Bressart can still be glimpsed in a few medium and long shots).
Critic Reviews for My Friend Irma
There are no critic reviews yet for My Friend Irma. Keep checking Rotten Tomatoes for updates!
Audience Reviews for My Friend Irma
½
Marie Wilson was a talented comic actress but Irma, sweet natured though she may be is an exasperating twit. Martin & Lewis are very much in the background but Dean does get a chance to sing a song or two.
My Friend Irma Quotes
There are no approved quotes yet for this movie.