My Dog Tulip
(2010)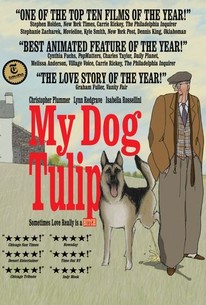 TOMATOMETER
AUDIENCE SCORE
Critic Consensus: A beautifully animated diversion, My Dog Tulip is as comforting and delightful as cuddling with your own canine companion.
Movie Info
A bittersweet account of the author's 14-year relationship with his adopted Alsatian, MY DOG TULIP was written, directed and animated by award-winning filmmakers Paul and Sandra Fierlinger, and is the first animated feature ever to be entirely hand drawn and painted utilizing paperless computer technology. An official selection of the 2009 Toronto International Film Festival, MY DOG TULIP is based on the book by British author and distinguished man of letters J.R. Ackerley. Ackerley hardly thought of himself as a dog lover when, in middle age, he came to adopt Tulip - a beautiful, yet intolerable 18-month-old German shepherd. To his surprise, she turned out to be the love of his life, the ideal companion he had been searching for in vain. Originally published in England in 1956, My Dog Tulip is now published in the US by the New York Review of Books, and is the best-selling title in their Classics Series. In vivid and sometimes startling detail, the film reveals Tulip's often erratic behavior, canine tastes, and Ackerley's determined efforts to ensure an existence of perfect happiness for her. -- (C) New Yorker
News & Interviews for My Dog Tulip
Critic Reviews for My Dog Tulip
Audience Reviews for My Dog Tulip
Wittily narrated by Plummer this a cartoon that dog-lovers will adore but if you don't really appreciate the bond with your pet you may find it a little boring. The animation is very simple (similar to 'Yellow Submarine') but I found it a nice contrast to Disney and the film has a very British sensibility. The cartoon is an honest account of looking after and loving a pet and so therefore there are lots of scenes of the dog pooing and being on heat. After a while the scenes of trying to find a mate for Tulip begin to drag and the whole thing is probably 20 minutes too long but I still enjoyed it for trying to be different.
David Sayers
Super Reviewer
½
*** out of **** I've had two dogs so far in my lifetime. The first was named Chatom; I was born and then greeted by his natural warmth. He lived a good fourteen years and then passed away. A few years later; the family got Skipper, his name derived from my mother's flamboyant obsession with boating (skipper, for those who don't know, is just another word for captain). I loved both dogs; as a good owner should. I'll even admit to having some special sort of connection with each of them, and I'll tell you: the bond shared between a man/woman and his/her dog is a peculiar, fascinating, impeccable one. Given that I've had experience with dogs - as house pets and even as friends - it comes to no surprise that quite a bit of the material covered in "My Dog Tulip" - a wonderful adult animation based on the memoirs of author J.R. Ackerley - resonates with me and the rest of the dog-loving world. It's a bittersweet and often times touching story of a boy - and a very old boy at that - and his dog; told with compassion, humor, and a general understanding of human impulses and emotions. Since the story is indeed told as if it were a memoir; our narrator is Christopher Plummer, playing the role of Ackerley. He wants to tell us about his dog tulip; an animal that he loved for fifteen pleasant, wonderful, and insightful years. In return for his love towards the animal; the animal also loved him. The relationship is told through a short, sweet, and most definitely to-the-point story that only a guy like Ackerley could tell in the many interesting ways that he does. For starters, I suppose it's unique that he would tackle the subject of owning - and sharing a life with - a dog with a sharp sense of humor and wit; the kind that could indeed be the sole reason behind why "My Dog Tulip" has touched some and alienated others. Along the way from beginning (Tulip's adoption) to end (Tulip's death); there's jokes about bowel movements, a dog's sexual needs, urination, and of course - dog feces. While some of these things might come off as juvenile, they are presented here as all-too-human; the collective and unfiltered thoughts of the narrator, who Plummer gives the kind of animated personality that such a man would be required to have for this story. What can I say? I was touched, I suppose. By the end, the story comes full circle; and I'd be lying if I said I wasn't at least somewhat moved. Having owned that first dog of mine and been with him until the end, I can certainly relate to the kind of companionship that the two central characters here share. My guess is that most people can. But one common criticism, if there are any logical criticisms at all, would be the fact that "My Dog Tulip" also touches on the sad realization that Ackerley found his one love and one friend in that dog; romantic opportunities were everywhere, but he kept denying them, for he treated Tulip as if she were his lover. Therefore, he does not cheat. The movie is slow, sentimental, and true. It takes us through the good times and the bad times that a dog owner often experiences when caring for their animal of choice; Tulip is not what most would call a "good dog", in fact, the owner is forced to scold the beast rather harshly in some spots; but the thing about us human beings is that we know the value of a dog's unconditional love. You can stop loving a dog; but they shall always love you no matter what. That is how they are; and the best moments in the film are when Tulip shows great affection for her owner. Such moments were, to say the least, easy for a guy like me to identify with. While I love dogs to death - and also admire the deeply felt story at the center of the film - I can't say I absolutely loved it. I didn't have many problems with it; but if I have one major complaint, it's that "My Dog Tulip" failed to tug at my emotional heartstrings. Not many films can do that anyways, but since the story is so relatable, I kind of expected to be moved on a deeper level than I was. But then again, an emotional reaction is just that; and I felt something. That's probably more than a mainstream audience will ever feel from the movie; since it is unsuitable for them. The animation isn't of the highest quality - perhaps so that the story can step into the spotlight throughout - and the film never quite begs to be resonant. Yet, for those willing to see it through and admire it, there are indeed things to resonate with. "My Dog Tulip" is a gem of an animation that will probably continue to go unnoticed - since it still lies somewhere in obscurity - but I think it deserves attention and I hope that somehow, someday, and in some way; it shall find an audience that truly loves it for what it is.
Ryan Marshall
Super Reviewer
Grumpy old man adopts idiosyncratic German Shepherd and they both lived happily ever after. Based on the book by J R Ackerley, beautifully animated and perfectly narrated by Christpher Plummer. More information about dog poo, wormings and the mating practices of dogs in heat than there was in Lady And The Tramp.
My Dog Tulip Quotes
There are no approved quotes yet for this movie.