My Cousin Vinny
(1992)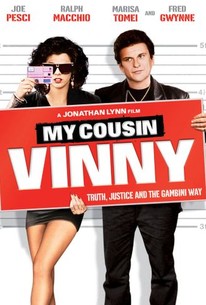 TOMATOMETER
AUDIENCE SCORE
Critic Consensus: The deft comic interplay between Joe Pesci and Marisa Tomei helps to elevate My Cousin Vinny's predictable script, and the result is a sharp, hilarious courtroom comedy.
Movie Info
When sweet Northern college kid Bill (Ralph Macchio) and his buddy Stan (Mitchell Whitfield) are picked up and thrown into the slammer in a hick Southern town, at first it looks like no big deal. Then they are informed that they are accused of murder. Penniless and without a single friend in the area, Bill decides to call his goofy cousin Vinny (Joe Pesci), who has somehow recently become a lawyer. Full of family feeling and bravado, Vinny, who has never tried a criminal case in his short life as a lawyer, rides south to defend his trusting relative. He's an expert motormouth and street-level logician from the wilder reaches of metropolitan New York, complete with a thick accent and the attitude to go with it. Otherwise, he's much less well qualified than your average public defender. When he arrives on the scene with his equally brassy girlfriend Lisa (Marisa Tomei), Bill is fairly sure he's going to be sentenced to death. His buddy Stan is even less confident of his legal representative, if that's possible, and the first thing Vinny has to do is to regain the consent of his clients to represent them. The local judge doesn't seem any too sympathetic to Vinny's verbal shenanigans either, and even the most optimistic supporter of the boys would begin to have doubts at this point -- and Vinny's no exception. With the insistent moral encouragement of his girlfriend, Vinny somehow accomplishes the impossible and wins grudging (if very irritated) respect from all concerned, for once studying as if his life depended on it. ~ Clarke Fountain, Rovi
News & Interviews for My Cousin Vinny
Critic Reviews for My Cousin Vinny
Audience Reviews for My Cousin Vinny
During a cross-country road trip, two New Yorkers are arrested and jailed in Alabama after being mistaken as murderers of a convenience store clerk. In their desperation, they hire the cousin of one of them to be their lawyer, only to find out that Vinny has only recently become a lawyer, and has no real experience with legal procedure. According to my research, this film is actually fairly accurate and realistic in terms of how it portrays legal procedures, trials, and that sort of thing. So, going by that, I can get behind this film for trying to do some *ahem* justice to its subject matter. The film does occasionally dip into outdated and on the nose territory with some of the fish out of water elements, but overall, this is a pretty witty, sharp, and funny comedy. Ralph Macchio is fine as Bill, but Mitchell Whitfield is only okay as his buddy Stan. As Bill's cousin Vinny, Joe Pesci is a delight. Lane Smith is fun as the prosecutor, Bruce McGill is fun as the sheriff, and Fred Gwynne (in his final film) is quite strong as the judge. The real scene stealer here though, is Marisa Tomei in her breakout Oscar winning performance as Vinny's loudmouth fiancee who is along for the ride. And then of course there's yet another turn by James Rebhorn in an antagonistic role. He's fine of course, but sometimes I wish I could see him go against type. The film is a bit dated and out of touch, and, like I said, goes for easy and obvious targets with its humor. All in all though, this is a a really funny and delightful film, so give it a watch if you haven't done so yet.
Chris Weber
Super Reviewer
Vinny: Uh... everything that guy just said is bullshit... Thank you.  "Truth, Justice and the Gambini Way." My Cousin Vinny is one of the funnier comedies I have ever seen. The cast is great, with Joe Pesci, Marisa Tomei and Fred Gwynn. The film has some of the funniest individual scenes I have ever seen because of Pesci. He's pretty good at playing a monster, but damn did he give a great performance as a lawyer who doesn't know all that much about law. Going in, I have to say I didn't think this was going to be as good as I had heard, but it delivered everything you'd want from a comedy. Two young college students are traveling through Alabama when they stop at a local convenient store for some food. After buying their food and getting back on the road, they get pulled over. They think it is for stealing a can of tuna, but actually they are bing accused of murder. They can't afford a good attorney, so they settle for a cousin, by the name of Vinny. He has graduated from law school, but it took him six tries to pass the BAR. Now he has been a lawyer for a whole six weeks, hasn't gone to trial, knows nothing about the procedures and is being tossed into a murder trial that concerns a family member, who if convicted wouldn't just go to prison, but probably would be put to death. How could this not be funny? I love the banter back and forth between the actors. Tomei and Pesci have great chemistry and make every scene that they are in together interesting. But the best back and forth came in the courtroom scenes between the judge(Fred Gwynn) and Vinny. Most of their conversations go something like this: Judge:I don't like your attitude.  Vinny: So what else is new?  Judge: I'm holding you in contempt of court.  Vinny: Now there's a fucking surprise.  Judge: What did you say? What did you just say?  Vinny: Huh? What did I say?  Then there's his back and forth with the witnesses: Vinny: How could it take you five minutes to cook your grits when it takes the entire grit-eating world 20 minutes?  Tipton: Um... I'm a fast cook, I guess.  Vinny:  What? I'm sorry I was over there. Did you just say you were a fast cook? Are we to believe that boiling water soaks into a grit faster in your kitchen than any place on the face of the earth?  Tipton: I don't know.  Vinny: Perhaps the laws of physics cease to exist on your stove. Were these magic grits? Did you buy them from the same guy who sold Jack his beanstalk beans?  The dialogue in My Cousin Vinny is extremely funny and most of the time very smart. It has its occasional goofy scene that is all about being stupid, but for the most part it is highly intelligent. This movie gave me a new appreciation for everyone involved. I love Joe Pesci and Marisa Tomei, but this just took them to a whole new level in my book. Also, Fred Gwynn; I've never seen him in anything outside of The Munsters, that I know of. He has that same quality that makes him so fun to watch as Herman Munster, in this movie as a Judge.  If you're looking for a movie to make you laugh; it doesn't get to much better than this. I mean, this movie is in Blazing Saddles country when it comes to how funny it is. That is saying something.
Melvin White
Super Reviewer
Remember the first time I saw it. Had never heard of it...and I was blown away
Martin Sahlin
Super Reviewer
My Cousin Vinny Quotes
There are no approved quotes yet for this movie.