My Blueberry Nights
(2007)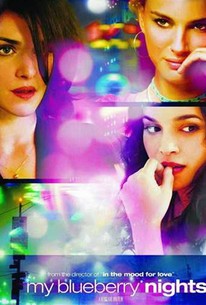 My Blueberry Nights Photos
Movie Info
After a rough break-up, Elizabeth sets out on a journey across America, leaving behind a life of memories, a dream and a soulful new friend; a cafe owner--all while in search of something to mend her broken heart. Waitressing her way through the country, Elizabeth befriends others whose yearnings are greater than hers, including a troubled cop and his estranged wife and a down-on-her luck gambler with a score to settle. Through these individuals, Elizabeth witnesses the true depths of loneliness and emptiness, and begins to understand that her own journey is part of a greater exploration within herself.
News & Interviews for My Blueberry Nights
Critic Reviews for My Blueberry Nights
Audience Reviews for My Blueberry Nights
This is my second time watching this. I really want to like it more than I do. The lighting and scenes are pretty, it really is beautifully shot. What lets it down is the script and the story. It is just not enough. And Jude Law is absolutely horrible in this. People blame Norah Jones as being the weak link who can't carry the film, but really she's fine. Understated, but I think the character is meant to be. Jude, on the other hand, is hammy and can't look at him without thinking he's sleazy and wouldn't actually want to see him get together with Norah's character (this of course could be due to his well known personal issues), but he does actually look grotty here. The supporting characters have more to work with and actually did care about their stories. It's a shame as the potential and cast (Jude aside) actually was there in this one, but it just doesn't quite work as a whole.
Nicki Marie
Super Reviewer
½
Terminally uneven film. It's charming in New York, purple in Memphis - though David Strathairn shines as a drunk who can't get over the end of his marriage - and completely off the rails in Nevada as Elizabeth/Lizzy/Beth (Norah Jones) travels America to get over a broken heart, when really, she should have gotten together with that charming cafe owner across the street (Jude Law) all along. Natalie Portman is too young for the role she plays (gambler with estranged father), but Norah Jones surprises in this beautifully shot and nicely scored film. If it didn't get so precious in the middle, it would have been much better.
Daniel Perry
Super Reviewer
½
My Blueberry Nights is a movie that is astonishing if only in the sense that it talks you out of liking it. Its cast is reasonably impressive but director Kar Wai Wong started shitting the bed about 5 minutes in (namely with this jittery slow motioney effect of which the technical term escapes me, but looks like the director and the editor sat in the editing room smoking meth and drinking Red Bull as they put the movie together) took a movie that you kind of want to care about then convinces you to do the absolute opposite. Norah Jones is a cute and empty vessel in the movie and the whole dynamic between her and Jude Law was as conrtived as it was pretentious. Rachel Weisz, David Strathairn and Natalie Portman play grotesque South caricatures that must have been Tennessee Williams-inspired. The Chan Marshall cameo was a nice surprise but by the time the whole thing was said and done I didn't care. Actually I stopped caring despite the abundant foxiness about 20 minutes in. At least it wasn't long...
Michael Gildea
Super Reviewer
My Blueberry Nights Quotes
There are no approved quotes yet for this movie.