The Music Lovers
(1971)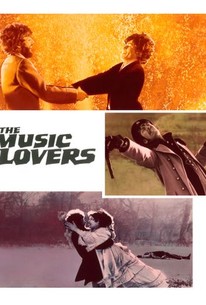 Movie Info
Pyotr Ilyich Tchaikovsky is given the Ken Russell treatment in The Music Lovers, which means that there is plenty of music, plenty of passion, plenty of debauchery, and plenty of excess. Tame by Russell's later standards (Lisztomania), The Music Lovers nevertheless thrives on creative and sexual anguish. Richard Chamberlain plays Tchaikovsky with a bug-eyed intensity as a composer consumed by his art -- so consumed that his romantic attachments become bisexual and irrational. He falls in love with Nina (Glenda Jackson), the hysterical trollop he marries with dire consequences. As he explodes emotionally, his public performance of Piano Concerto in B flat minor becomes a cue for flashbacks to a series of discomforting childhood events that suggest incestuous relations with his sister. Back in real time, Tchaikovsky has to deal with Nina's outbursts while juggling his homosexual urges and his almost hidden desire for Count Anton Chiluvsky (Christopher Gable). The film also details the curious relationship between Tchaikovsky and his rich patroness, the middle-aged widow Madame Nadedja von Meck (Isabella Telezynska), who loves Tchaikovsky deeply, but refuses to meet him -- their only communication being through letters, even though he lives on her estate. Andre Previn and the London Symphony Orchestra perform Tchaikovsky's music. ~ Paul Brenner, Rovi
News & Interviews for The Music Lovers
Critic Reviews for The Music Lovers
Audience Reviews for The Music Lovers
Two quotes, two different films from 1971, the same critic: Alexander Walker, late of the London Evening Standard. 1) "I think it's a great film; I think it's one of the most important films ever made in this country." 2) "It looked like the masturbation fantasies of a Roman Catholic boyhood." The films in question? Respectively, Stanley Kubrick's A Clockwork Orange and Ken Russell's The Devils. Now, as far as the quotes go, I completely disagree with the first and broadly concur with the second, with the proviso that "masturbation fantasies" need not inherently be devoid of artistic merit, as Walker implies. What on Earth has this to do with The Music Lovers? Don't worry, I'm getting to it... What I believe these quotes demonstrate very well is the critical snobbery and hypocrisy which dogged Ken Russell throughout his career. If you watch Dance of the Seven Veils, the biopic of Richard Strauss which brought Russell's dazzling tenure at the BBC to a controversial close in 1970, you will not fail to notice a reference to Kubrick's 2001: A Space Odyssey. What I would argue is that, with A Clockwork Orange, Kubrick returned the compliment. With its army of grotesques, its leering, hallucinatory camerawork, the overarching campness of the whole production and - most tellingly - with its ultraviolence set to classical music, A Clockwork Orange resembles nothing so much as Ken Russell-lite. I simply cannot believe that Russell's work had no direct influence on Kubrick's movie - I will even stick my neck out and say that Russell in his prime would have made a better fist of it - so for Alexander Walker to dismiss Russell's oeuvre as garbage and embrace its progeny as a masterpiece is film criticism at its most maddeningly disingenuous. While The Music Lovers, Russell's biography of Tchaikovsky, certainly does not represent this director at the height of his powers, it's nowhere near as terrible as the detractors would have you believe. The film contains flashes of brilliance, some stunning visual coups and, amidst all the vulgarity and excess, one or two lovely quiet moments. My favourite scene is probably the one in which Tchaikovsky (Richard Chamberlain), his wife Nina (Glenda Jackson) and his jilted lover, the Count Chiluvsky (Christopher Gable), watch a performance of Swan Lake and the Count wistfully summarises the plot of the ballet for the benefit of his oblivious rival. For the best of Russell on the big screen, check out Women in Love, The Devils, The Boy Friend, Savage Messiah and Mahler. God Bless you, Ken, for dragging British cinema out of the Kitchen Sink.
½
Florid and excessive which is standard for Russell's films. The music of course is brilliant.
The Music Lovers Quotes
There are no approved quotes yet for this movie.