Murder by Contract
(1958)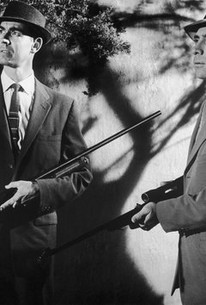 Murder by Contract Photos
Movie Info
Murder by Contract was more professionally beneficial for its star, Vincent Edwards, than its director, the underrated Irving Lerner. Edwards plays hitman-for-hire Claude, who goes about his work with quiet, detached and deadly efficiency. After several "minor" killings (adroitly and subtly conveyed by director Lerner), Claude is assigned the task of murdering mob witness Billie Williams (Caprice Toriel). Despite his qualms about killing a woman-not because he's got a sentimental streak, but because women are "difficult" to kill without a lot of extra preparation-he accepts the job. His first two attempts come to naught, due to circumstances beyond his control. While laying the groundwork for his third try, Claude finds out that his two trusted associates (Herschel Bernardi and Phillip Pine) have been ordered to kill him because of his earlier failures. Wearily, he disposes of his ex-comrades and gets down to the business at hand. Had Murder by Contract been made a few years later, Claude may have triumphed in the end, but the state of censorship in 1958 dictated a less happy fate for the "hero". Enhancing the low-key ambience of Murder by Contract is the matter-of-fact cinematography of Lucien Ballard and the muted one-guitar musical score by Carlo Lodato.
Critic Reviews for Murder by Contract
Audience Reviews for Murder by Contract
a very entertaining 50s noir that somehow escaped my radar until yesterday. the banter of the supporting characters and the third man theme music made me smile. great existential vibe, better than blast of silence. and surely a template for le samouraï. oh those crazy, irrational, trouble-makin women...
Stella Dallas
Super Reviewer
Murder by Contract Quotes
There are no approved quotes yet for this movie.