Mum & Dad
(2008)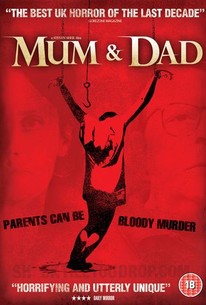 Movie Info
Stranded at work and with no hope of getting home, airport cleaning woman Lena accepts an invitation to spend the night with her perky colleague Birdie, only to find that her unusually close-knit family has some sinister secrets. Writer/director Steven Shiel makes his feature directorial debut with this distinctly British shocker. ~ Jason Buchanan, Rovi
Critic Reviews for Mum & Dad
Audience Reviews for Mum & Dad
½
Yet another 'demented family' movie, this time from Britain where a 50-something couple and their adopted son and daughter kidnap a female Polish immigrant and try to add her to their sick household. It's pretty good, nothing too original or groundbreaking and certainly not "the best UK horror of the last decade" as said by gorezone magazine. It does manage to be a little disturbing and the family do come across genuinely unpleasant. There's a bit of gore and torture but nothing too graphic or disgusting. Well acted too, which is something British actors excel at no matter what the genre. Definitely a wothwhile watch, but nothing outstanding.
½
The real life events of the likes of Joseph Fritzl make a film like this surprisingly believable. Mum & Dad may not be pushing the boundaries of taste, nor is it anything new or shocking, but it does what it can on it's budget. It also has a few sly punches at the disgustingly working class Brits. The Royle Family meets Hostel. The Christmas scene and the petty squabbles, are little comedic moments that suggest this film could have gone for all out satire. The acting is mostly of British-drama-TV caliber, so it's bearable, but not enough for what the film wants to achieve.
Luke Baldock
Super Reviewer
½
Really horrible movie, gory,,, just... yuck. Good for a low budget film, and acting is good, particularly the actress who plays Birdie. Disturbing how normal she plays that role. LOL. I couldn't recommend this because it is pretty gruesome and horrible, but I'm sure anyone who likes stuff like Saw (which I personally can't stand) and Hostel would be all over this.
Nicki Marie
Super Reviewer
Mum & Dad Quotes
There are no approved quotes yet for this movie.