Mrs. Henderson Presents
(2006)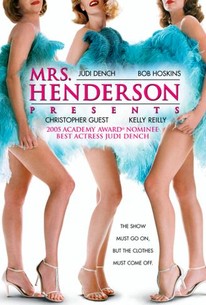 Mrs. Henderson Presents Photos
Movie Info
A recently widowed eccentric with money to burn and no intentions of settling down enlists the aide of a showbiz professional to transform a run-down theater in Soho into London's most innovative entertainment hot spot in director Stephen Frears' cinematic account of the groundbreaking Windmill Theater. The year is 1937 and, despite having recently lost her husband, 69-year-old Laura Henderson (Judy Dench) remains as ambitious and vital as ever. Aghast at her friend Lady Conway's (Thelma Barlow) suggestion that she take up a mundane hobby such as diamond collecting to pass the time, Mrs. Henderson instead shocks her well-to-do social circle by purchasing the ramshackle Windmill Theater in the heart of downtown Soho. Unafraid to take a risk in the venture, yet lacking the experience needed to run the theater, Mrs. Henderson brings in showbiz veteran Vivian Van Damm (Bob Hoskins) to line up an opening act that will set the stage ablaze. When the ever-curious Mrs. Henderson's intrusive spying begins to impede on Mr. Van Damm's creative progress, the frustrated theater manager has her banished from rehearsals. Though Van Damm's innovative idea to stage an unending stream of entertainment dubbed "Revudeville" proves a wild and profitable success, the Windmill begins to suffer when other local theaters quickly follow suit. Now faced with the prospect of seeing her once-lucrative endeavor fall by the wayside due to the unoriginality of the copycats who surround her, Mrs. Henderson decides to show audiences something they've never seen before by making the Windmill the first theater to feature nude female entertainers live on-stage. ~ Jason Buchanan, Rovi
News & Interviews for Mrs. Henderson Presents
Critic Reviews for Mrs. Henderson Presents
Audience Reviews for Mrs. Henderson Presents
The Windmill Theater in London was infamous for shaking up that famous British stiff upper lip with their girly revues and bawdy shows, and that story is told here (however informed by Hollywood musicals). So the background story is laid out about a rich society widow sponsoring an showbiz venture, unusual in Britain upper circles, and the eventual success of that venture, but the real film lies in the re-creation of the stage shows put on in those years. The whole is not bad, yet lacking the bite the real story, a British story, of the impact, humanity and courage even prostitutes must've had during the wartime blitz. For a work purportedly celebrating those people, this film shies away from who those people were.
Kevin M. Williams
Super Reviewer
[img]http://images.rottentomatoes.com/images/user/icons/icon14.gif[/img]
Directors Cat
Super Reviewer
The recently widowed Mrs. Henderson has no idea what to do with her life and her vast amount of cash. Her friend suggests she gets herself a hobby, and after pricking her finger doing some embroidery she instead decides to buy a rundown theatre. She hires theatre manager Bob Hoskins to take over and run a musical review which all goes fine and dandy until everyone copies them. They decide to do something more daring and so have nudes on the stage. The film has the classical polite British putdowns and absurd but brilliant satirical moments. The nudes are not allowed to move, because then it's art. The musical numbers are quite fun and inventive and the verbal fisticuffs between Dench and Hoskins is brilliant. They each give us a warm but strict character and there is a lot of chemistry, which makes it even more interesting when the film shrugs off the romance angle between the pair. In the latter half after the war kicks off the film inevitably loses some of its warm colourful charm, but reflects the time period accordingly. A great supporting cast, especially Guest in a hilarious role, bring alive those little moments. A joyful feel good movie that gives a lot of heart.
Luke Baldock
Super Reviewer
Mrs. Henderson Presents Quotes
There are no approved quotes yet for this movie.