Mr. Woodcock
(2007)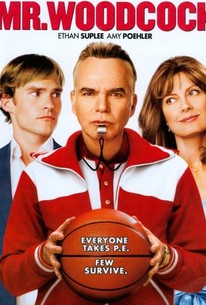 TOMATOMETER
AUDIENCE SCORE
Critic Consensus: Underutilizing a talented cast, Mr. Woodcock lacks the comic energy and timing to make the most of its intriguing premise.
Movie Info
When an author (Seann William Scott) learns that his mother (Susan Sarandon) is planning on exchanging vows with the high school gym teacher (Billy Bob Thornton) who made his life a living hell, he races home to stop the nuptials from taking place at any cost in this comedy from first-time feature film director Craig Gillespie.
News & Interviews for Mr. Woodcock
Critic Reviews for Mr. Woodcock
Audience Reviews for Mr. Woodcock
If you're looking for Billy Bob Thornton's worst film, Mr. Woodcock is probably the one. I felt that Mr. Woodcock lacked anything funny or interesting that would make it a memorable comedy. The acting here sucks, and both Sean William Scott and Billy Bob Thornton give lazy performances and are actually quite boring to watch. The laughs are minimal. The film fails on being anything effective in its humor. The jokes feel forced, uninspired and they get old very quick. The acting suffers as well, and Thornton basically plays the same character he's played in previous films. With the exception with a rewrite, Thornton's character in this film is no different than previous characters that he's played. I felt that Mr. Woodcock was a missed opportunity to create a good comedy, and it might have worked if the story didn't really rely on Billy Bob's usual asshole image. Unfortunately the film relies only on that, instead of focusing on other elements which could have improved the film significantly. The film could have been a memorable comedy, and Billy Bob is a funny guy, but the script is too sloppy and unimpressive to really be entertaining. This is one of the weakest comedies starring Billy Bob Thornton, he's the right guy for this type of role, but the film relies too much on his asshole persona and doesn't do anything to really make the film interesting by exploring other ideas with plot.
½
An average comedy with a strong cast line up. Pretty much run of the mill jokes about the son who disapproves of his Mum's new man. It turns out to be the gym instructor who made his life hell at school. Has a few funny moments but not nearly enough of them, especially for the talented line up!
½
There were funny parts in the movie, but its so dumb and bad its hard to even remotely like this movie.
Jim Careter
Super Reviewer
Mr. Woodcock Quotes
There are no approved quotes yet for this movie.