Mr. Wong, Detective
(1938)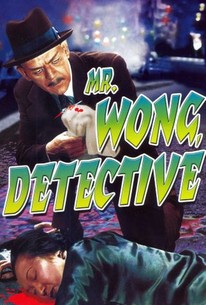 AUDIENCE SCORE
Critic Consensus: No consensus yet.
Movie Info
The first of six Mr. Wong whodunits, Mr. Wong Detective presented Boris Karloff as pulp writer Hugh Wiley's Oxford-educated Oriental sleuth. Wong is visited by Simon Dayton (John Hamilton), an industrialist fearing for his life. Dayton and his partners Meisle (William Gould) and Wilk (Hooper Atchley) have been selling a poison gas invented by Roemer (John St. Polis), who, feeling cheated out of the deal, shows up in Dayton's office waving a gun. Minutes later, Dayton is found murdered by his secretary, Myra Ross (Maxine Jennings). Police Captain Sam Street (Grant Withers), Myra's boyfriend, immediately puts Roemer under arrest. Wong is not convinced of the man's guilt, especially after discovering a broken piece of glass near the body. During the ongoing investigation, the two remaining partners are also slain, but who done it? Are the killers foreign-accented Baron Anton Mohl (Lucien Prival) and his beautiful Brooklyn-born associate who calls herself Countess Dubois (Evelyn Brent)? Or did Roemer do the dirty deed? Could the dead man's nosy office manager (Wilbur Mack) have committed the crime and does Mrs. Roemer (Grace Wood) know more than she is telling? As Mr. Wong discovers, the answer is to be found in the origin and purpose of the mysterious pieces of glass found near each victim.
Critic Reviews for Mr. Wong, Detective
There are no critic reviews yet for Mr. Wong, Detective. Keep checking Rotten Tomatoes for updates!
Audience Reviews for Mr. Wong, Detective
Lets See Boris Karloff as an Asian Detective, humm, no I liked him better in his horror roles, maybe its me. But this is coming from a Native American who grew up watching white European men play the part of most American Indians in most westerns prior to 1980. The least you could have done was glue his eyes back a little more. It was funny to see how Mr. Wong held his smoke, more like a German in war movies, were we stereo type when these films were made??? If you get it in a group I say go for it but as a single, naw stay away from it.
Bruce Bruce
Super Reviewer
Mr. Wong, Detective Quotes
There are no approved quotes yet for this movie.