Mr. Destiny
(1990)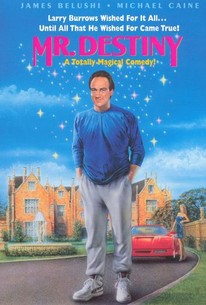 Movie Info
A dissatisfied businessman in the midst of a mid-life crisis encounters a magical bartender who shows him what might have been in this fantasy. With the bartender, the man tours the life he would have led had he won a high-school baseball game rather than striking out.
Critic Reviews for Mr. Destiny
Audience Reviews for Mr. Destiny
½
Nice story concept, but it deserves to have some better actors. Not that James Belusci is terrible at what he does or anything, but he wouldn't exactly be my first choice to play the starring role of anything. The biggest gripe I have with this film, however, is not its bland cast, but the screenplay its founded upon. Whoever wrote it must have a pretty lame sense of humor, because it completely misses the mark in its attempts to be funny. The use of a voice-over narration wasn't such a bright idea either, especially with Belusci sounding as tired and lifeless as he does. With all this mind, this is one of few movies I wouldn't mind seeing a re-make of. I guess, if that were to happen, that it'd become a re-make of a re-make though, as I read somewhere that the plot for this film has mainly been derived from the oldie It's A Wonderful Life. Be that as it may, I'm sticking to what I said, because it's always a shame when a good story has to suffer the hands of a less-than-brilliant cast and director. It's still an okay movie though, even if I now wish that I'd spent my time on something else.
Tim Salmons
Super Reviewer
½
A what if story that was pretty funny. I wish James Belushi did more movies. Michael Caine was in this as well.
Jason Spencer
Super Reviewer
Mr. Destiny Quotes
There are no approved quotes yet for this movie.