Mr. Deeds Goes to Town
(1936)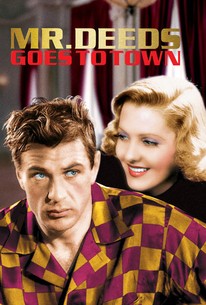 Mr. Deeds Goes to Town Photos
Movie Info
When a car crash ends the life of a fabulously wealthy patron of the arts, the decedent's $20,000,000 fortune is inherited by one Longfellow Deeds. When Deeds is convinced to move to New York, hard-boiled newspaper reporter Babe Bennett is dispatched to get the inside scoop on "The Cinderella Man."
Critic Reviews for Mr. Deeds Goes to Town
Audience Reviews for Mr. Deeds Goes to Town
½
An "everyman" inherits a fortune but is surprised by the culture of his upper class peers. Frank Capra must have had the most simplistic ideas about wealth and morality. Between this film and You Can't Take It with You, Capra's economic philosophy must begin and end with "Money makes you bad." This is not to say that Capra believes money is corrupting force, but to say that Capra's films imply that anyone pursuing wealth must do so at the expense of his/her soul. But even Capra's construction of the "everyman" is problematic because Gary Cooper's character, while basically decent, is a bit of an asshole. He goes around punching people or threatening violence because he believes a good swift knock is the best way to clean someone's clock. Mr. Deeds might be a swell guy, but by golly, don't cross him. Overall, Capra, one of Hollywood's classic filmmakers, is overrated
Jim Hunter
Super Reviewer
Another inspiring tale from the master. Gary Cooper is brilliant.
Graham Jones
Super Reviewer
God, I loved this movie! Not only is Mr. Deeds Goes to Town yet another of Frank Capra's best works but it manages to do what every other great Frank Capra movie does -- restores my faith in humanity, gets me teary-eyed and has me clapping at the end. Admittedly I was on the fence about Gary Cooper when this movie started but I loved the man by the end. The echo scene was hysterical and for as much as I started to roll my eyes at the beginning of the courtroom scene, I felt as bad doubting Capra as the characters in the movie did doubting Deeds. Unfortunately I couldn't stop thinking about the awful Adam Sandler remake the whole time but its probably for the best I saw that one first (I know, I know...) as I'd probably make it my life's mission to drop an anvil on his head. As for the Capra one, you cannot go wrong...!
Michael Gildea
Super Reviewer
Mr. Deeds Goes to Town Quotes
There are no approved quotes yet for this movie.