Mr. Arkadin
(1962)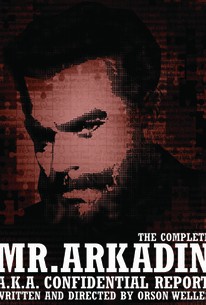 Movie Info
A dying man's final words send two people to Gregory Arkadin, a mysterious and much-feared billionaire who lives in a Xanadu-like castle. Guy Van Stratten, an adventurer and fortune hunter, is interested in Arkadin's money -- and his daughter, Raina. Arkadin, overprotective of his daughter, has his "secretaries" prepare a damaging dossier on Van Stratten -- entitled "Confidential Report." But, Arkadin then makes a deal with Van Stratten -- he will pay the young man for preparing a similar file on him, for Mr. Arkadin says he remembers nothing about his past and does not know where he came from. Even his name is a mystery. Van Stratten's search for the truth about Arkadin's past takes him throughout Europe and to Mexico and features encounters with a variety of fabulously colorful characters.
Critic Reviews for Mr. Arkadin
Audience Reviews for Mr. Arkadin
Flawed by no little reasons like an obvious low budget and flimsy storyline. Still, Welles and his baroque style were able to make mediocrity not only bearable, but sometimes captivating.
Pierluigi Puccini
Super Reviewer
½
A "brilliant disaster" is the perfect definition of this strange work.
Graham Jones
Super Reviewer
½
After watching Mr. Arkadin twice (once to see it and once again to attempt to understand it) I'm compelled to examine the inspirational possibilities. LSD was invented in the 1930's but didn't come into popular recreational use until the 1960's. Mr. Arkadin was released in 1955. Rule that out. Crack didn't become mainstream until the early 1980's. Scratch that one. Federico Fellini made his first film in 1950, a mere five years prior. A possible but unlikely influence. The best bet is that Orson just, somehow, lost artistic control and the film was cut, re-edited, dubbed, re-dubbed, lost, found, re-re-dubbed, and released. As freakishly bizarre as this all sounds, the film still warrants 4 & 1/2 stars. Imagine how high it could have been had it made sense!!
Randy Tippy
Super Reviewer
Mr. Arkadin Quotes
There are no approved quotes yet for this movie.