Move Over Darling
(1963)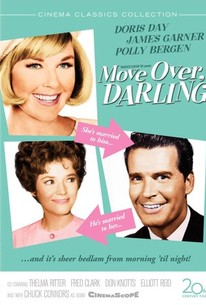 AUDIENCE SCORE
Critic Consensus: No consensus yet.
Movie Info
A man makes the highly unexpected discovery that he has two wives in this romantic comedy. Widower Nick Arden (James Garner) has just set off on his honeymoon with his new wife Bianca (Polly Bergen) when his mother Grace (Thelma Ritter) receives a very unexpected guest -- Nick's late wife Ellen (Doris Day). While Ellen was proclaimed legally dead five years after her plane disappeared in a flight over the Pacific Ocean, in truth her flight crash-landed on a desert island where she was stranded with Stephen Burkett (Chuck Connors) and only now has managed to return to civilization. When Grace informs Ellen that Nick has just left town with his new wife, Ellen heads out to the resort where the newlyweds are staying, and comic confusion ensues. Move Over, Darling began life as a project called Something's Got to Give, which was the film that Marilyn Monroe was working on at the time of her death; besides Monroe, the original cast included Dean Martin, Cyd Charisse, and Phil Silvers.
Critic Reviews for Move Over Darling
All Critics (2) | Fresh (2) | Rotten (0)
Garner effortlessly steps into Cary Grant's shoes and emerges with a performance that's much wackier than one might've expected from the actor...
Audience Reviews for Move Over Darling
½
A remake of the classic 1940 romantic comedy called "My Favorite Wife," this send up does some good, wacky, sixties style things that are classic in their own way, but doesn't do justice to the original. The reason this was doomed from the beginning is simply because the original didn't need a modern setting, any new set of circumstances, or stars of the time. It's a classic film, the same as the dramas that seem outspokenly protected by time. This was supposed to be a comeback for fallen star Marilyn Monroe, and became the infamous final film "Something's Gotta Give" before being retooled and given a completely different cast. Though I'm sure Monroe would have brought her charm to the role, it doesn't seem specific enough for her, or Dean Martin, who was also cast at the time. What you get instead is new cast members James Garner and Doris Day. While Garner is a perfect match for counterpart Cary Grant in style and substance, Day brings a level of goody two shoes, virginal glee to the mix that though unintentional, is counterproductive. Irene Dunne (from the 1940 version) could always match Grant's witticisms, which were throughout the film. The humor here is much keener than the original, not happy to take risks with changing characters or dialogue, so they put Day in continuously cutesy situations, from storming off with a blush in her cheek, to riding through a car wash completely dressed with the top down on her convertible. There's nothing as sneaky as, say, The Parent Trap, and nothing as smart as a Cary Grant comedy from the forties. It's not lazy, but complacent to take the easy way out time and again. The only true gleaming ray of light is character actress Thelma Ritter, who is always superb. I would put in a good word for Day, though I find her presence almost too sweet to bear. If you're interested though there is a creepy scene with Don Knotts as a perverted shoe clerk, and a shot for shot remake of one particular scene from the original film. The 1940 version is just too solid to be remade, and therein lies this film's problem, enough said.
Spencer S.
Super Reviewer
½
Perfect! It is absolutely delightful with a spectacular cast. Thelma Ritter is in my honest opinion, the best character actress that Hollywood has ever produced, and is allowed to perform her many talents with minimal intrusions by other actors. The best scene of all is watching Doris Day drive a brand new 1963 Imperial Conv. into a car wash and then accidentally putting the top down.
Dean McKenna
Super Reviewer
Move Over Darling Quotes
There are no approved quotes yet for this movie.