Mostly Martha (Bella Martha)
(2001)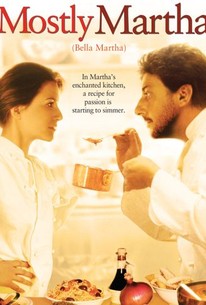 Mostly Martha (Bella Martha) Photos
Movie Info
Martha is the chef at a small gourmet restaurant in Hamburg who creates mini-masterpieces in every dish. She devotes every waking hour to her work and her shyness keeps her from breaking out of her monotonous routine or meeting new people. When her sister dies in an accident, however, she is compelled to adopt Lina, her 8-year-old niece. Martha's life changes in an instant: not only is she faced with adjusting to her new parental role, but she must also find inspired ways to deal with Lina's grief over the loss of her mother. Surprisingly, help comes from Mario, Martha's new Italian sous-chef, who begins to visit Martha and Lina, doing all that he can to cheer them up with jokes and elaborate meals. Just as the trio returns to a stage of normalcy in their lives, Lina's long missing father arrives, announcing that he wants to take Lina back to Italy with him. Having grown to love Lina and her own role as the girl's protector, Martha is faced with a difficult dilemma.
News & Interviews for Mostly Martha (Bella Martha)
Critic Reviews for Mostly Martha (Bella Martha)
Audience Reviews for Mostly Martha (Bella Martha)
Yummy from beginning to end. Not only is Martha quirky to watch, but the food preparation alone is worth sitting through this movie. Sweet and stylish. Passionate. Heart warming.
Cynthia S.
Super Reviewer
½
This was a great film, The one I rented had English Subtitles and was in German. It started out slow, but really picked up and was very funny. If your into subtitle Movies get this one or rent it, you will not be sorry.
Bruce Bruce
Super Reviewer
This is the most charming movie I have seen in a long time. It was very linear as far as foreign films go so if you want a very twisty, R Rated (as this is a PG film) foreign film this isn't it. What you get here is a great character development/study, a wonderful love story, and to watch a person who desperately needs to break out of her self-constructed cage...Well anyway...Martina Gedeck plays the marvelous Martha, a woman/cook who is very stuck in her ways and needs a few things to shake up her world a bit before she actually decides to smell the coffee as it were. You are able to watch this character blossom utilizing the vehicles of therapy and food to convey changes in character. Don't be surprised if you get REALLY hungry watching this film (much as you might if you were to be watching the incredible film, "Eat, Drink, Man, Woman). This is a wonderful movie and will leave you feeling just right.
Mostly Martha (Bella Martha) Quotes
There are no approved quotes yet for this movie.