The Mosquito Coast
(1986)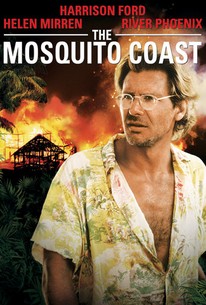 The Mosquito Coast Photos
Movie Info
Even a stellar performance by Harrison Ford as Allie Fox, an increasingly unbalanced inventor and crusader cannot make up for the downward slide at the end of this drama or for the need to probe a little further into the characters of Fox's son Charlie (River Phoenix) and his wife (Helen Mirren). After Fox's invention of an ice-making machine that runs without electricity is snubbed by the commercial world, he takes action on his disenchantment with materialistic, consumer-oriented American culture, sells his home, and moves to a fictional Caribbean island with his family. There he exhorts everyone to live off what nature provides and starts to set up his concept of an ideal environment. In the meantime, a pesky preacher on the island, capricious Mother Nature, and his family's growing discontent with his increasing obsessions are the first signs that this idyll is anything but.
News & Interviews for The Mosquito Coast
Critic Reviews for The Mosquito Coast
Audience Reviews for The Mosquito Coast
½
Definitely not for all tastes. This challenging film boasts a full committed performance from Harrison Ford, possibly his best work, with strong support by Helen Mirren and River Phoenix. Weir guides us through a complex portrait of a deeply flawed perhaps insane man's quest for what he sees as a simple life but which twists him into a demagogue imperiling his family on his fruitless journey. Tough going but a good picture.
½
Harrison Ford has made one movie that lost money, this one. Which is a damn shame as it's one of his most interesting. "...(He's) the most dangerous kind of man, a know it all, who is occasionally right." Ford drags his family to South American to bring the ice (and therefore civilization). Chaos ensues. Weir's direction is concise and tight, performances all round are fantastic. It's a shame that the failure of this drove him to the milk toast that is Dead Poets Society. An awesome double feature with There Will Be Blood or Fitzcaraldo.
Ken Stachnik
Super Reviewer
A gripping, uncompromising look at a family who follows their father (Harrison Ford) blindly into Central America, due to the father's utter disgust on how corrupted America has become - so he elects to try his luck out in the jungles where he puts his skills on display. This is a solid film, which is worth watching due to Harrison Ford's roaring, knockout performance as a man unaware of his own hypocrisy, and uncaring towards his family's feelings. Helen Mirren and River Phoenix also give very subtle, but still strong performances. Although this film has its flaws (such as the over-zealous extreme Christian missionary who chews up only five minutes of the film - five pretty bad and exaggerated minutes), the strengths of the film and the way the plot unfolds naturally (never once feeling artificial) is a thing of beauty to watch. Definitely a film I will want to revisit in a few years again.
Dan Schultz
Super Reviewer
The Mosquito Coast Quotes
There are no approved quotes yet for this movie.