Morocco
(1930)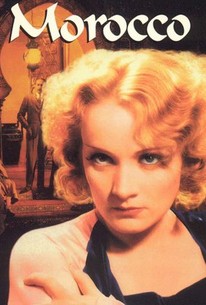 Movie Info
A sexy cabaret artiste, mistress to a wealthy man, tosses him over when she finds true love with a foreign legion soldier. Marlene Dietrich makes her first American screen appearance and gets plenty of chances to sing in this atmospheric Josef von Sternberg desert drama.
Critic Reviews for Morocco
Audience Reviews for Morocco
½
Through a cracky copy of this film, we see a young Gary Cooper and Marlene Dietrich doing her thing before and beyond what the Code would ever permit. It is probably the only interesting part to the film. I don't know if was jaded at seeing such a poor copy but the thrills were few and far between.
John Ballantine
Super Reviewer
½
the notable legendary bond of marlene dietrich/joserf von sternberg in the 30s...particularly the one scene dietrich wears tuxedo strutting imperiously then kisses a woman arrogantly as if she were a man that was deemed defyingly ultra-sexy in a conservative time of 30s...dietrich became the female martini idol who made millions of closet lesbians drooling endlessly, and also titilated male audience with a provocative sense of vanquishing lust.....except this offbeat gendre-ambiguous breakthru and sternberg's artsy lighting in black and white, the rest of the movie sinks into a conventional mode of love story between cabaret singer and a flippant soldier(gary cooper) trapped by the circumstance of war and seedy past...of course there's an un-requited suave provider (adolpe menjou) who loves her unconditionally but only rewarded with a hasty big hug rushly like an unworthy sap. could "morcocco" be considered milestone of feministic assertion since dietrich built her self-sufficient vixen facade by this movie?... perhaps not. it might be an intense feministic declaration of self-choasen will for love since she selects to chase behind the soldier barefoot in the desert (who flings around with women and could offer nothing but a wide innocent smile) instead of the selflessly patient gentleman who politely awaits her in the cozy limousine....it is a strong sense of self-chosen will indeed, but ironically it's like being the necglectful queen of an respectful worshiper but an romorseless dedicated slave to a ghetto hulk. somehow sadistically mosochistic. just like one fashion editor once remarks, dietrich combines the dublicity of a queen and a whore. maybe behind the grandeur facade of every shrewd vixen dwells a soul of petite woman who clings even to the shade silhouette of her beloved man. perhaps ideologically speaking, it's deliberantly arranged so since the bourgeois mass(the majority of movie-goers) would identify more with cooper machismo than the polished chivalry of adolphe menjou. something worthy a mention, adolphe menjou was spotted as the typecasting of charming rich gentleman since charlie chaplin's "a woman of paris", and menjou was prestigous for his appropritately aristocratic presence...maybe only william power could be the competent equivalent for his rackishly witty image in "the thin man" series.
Veronique Kwak
Super Reviewer
½
You think you're in love? Watch this and you might want to reexamine. One of the most romantic endings ever.
Morocco Quotes
There are no approved quotes yet for this movie.