Monty Python Live at the Hollywood Bowl
(1982)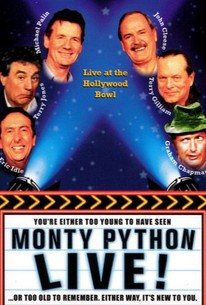 AUDIENCE SCORE
Critic Consensus: No consensus yet.
Monty Python Live at the Hollywood Bowl Photos
Movie Info
Like The Secret Policeman's Other Ball, Monty Python Live at the Hollywood Bowl consists of "concert" footage of the nonsensical British Monty Python troupe. This 77-minute collection of skits and blackouts features stalwart Pythoners Graham Chapman, John Cleese, Terry Gilliam, Eric Idle, Terry Jones and Michael Palin, together with semi-regulars Carol Cleveland and Neil Inness. The troupe's stream-of-consciousness humor transfers well to the L.A. stage; even the most familiar and time-worn bits -- including a TV quiz show featuring such contestants as Marx, Lenin and Mao -- elicits loud laughter from the enthusiastic audience. Originally lensed on videotape, Live at the Hollywood Bowl was transferred to film for theatrical distribution.
Critic Reviews for Monty Python Live at the Hollywood Bowl
All Critics (3) | Fresh (2) | Rotten (1)
This new installment is based on a vague and easy sense of humor and trite jokes. [Full Review in Spanish]
Probably the best greatest-hits collection of Python routines.
Monty Python Live At the Hollywood Bowl displays this zany British comedy team's daffy humor to good effect.
Audience Reviews for Monty Python Live at the Hollywood Bowl
Monty Python Live at the Hollywood Bowl may be bit on the dated side and doesn't really look that good technically, but it's a great snapshot of a group of successful guys going out and playing the Hollywood crowds for a fun evening of nonsense comedy. The best moment has to be the Church Police sketch when Terry Jones begins laughing and can hardly contain himself, especially when his wig flies off. It's also fun to see Terry Gilliam get more involved with the group as well, even if he can't keep much of a straight either. It may not be perfect, but it's a fun little movie with familiar sketches and even some new material mixed in. All in all, very enjoyable.
Tim Salmons
Super Reviewer
First of all; it's just amazing seeing the legendary Pythons performing the most popular sketches live, in front of a huge audience, similar to a music concert. The crowd is so into it, they seem to know the lines by heart. Still, they just love it and it makes for a very special event with a fantastic atmosphere. My favourite sketch (and it IS hard to pick just one!) is the "Church Police" sketch. Why? Because the otherwise super-professional Pythons can't keep from laughing themselves as things go slightly wrong. Just look when Terry Jones' wig comes right off as he jumps... They crack up. I have never seen that happen before, and every time I see it I laugh so hard it hurts. If you have never seen the TV-series before, this may not seem as all that much of a great movie. But being an almost fanatical fan of the Pythons, seeing these sketches live is a wholly enjoyable experience. The only sad thing is that most of us never attended the bloody thing. Nonetheless, this is a must see.
Cassandra Maples
Super Reviewer
I prefer the movies better, this is a movie too i know, however its their stand up routines.
Monty Python Live at the Hollywood Bowl Quotes
There are no approved quotes yet for this movie.