Monster House
(2006)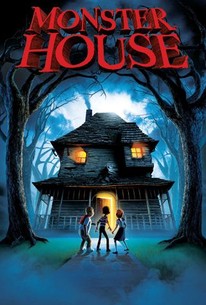 Movie Info
A suburban home has become physically animated by a vengeful human soul looking to stir up trouble from beyond the grave, and it's up to three adventurous kids from the neighborhood to do battle with the structural golem in this comically frightful tale, directed by Gil Kenan and featuring the voices of Steve Buscemi, Nick Cannon, Maggie Gyllenhaal, and Kevin James. DJ Harvard (voice of Mitchel Musso) lives directly across the street from a most unusual house. A malevolent entity that longs to feed on the energy of the living, the once peaceful house that looms ominously outside of DJ's bedroom window would like nothing more than the chance to feast on the children of the neighborhood. As Halloween begins to draw near and the children of the neighborhood prepare for another long night of trick-or-treating, it appears as if it may be the house that is in for the biggest treat of all. Now, with the adults turning a deaf ear to DJ's strange findings, it's up to the brave young boy and his faithful friends Chowder (voice of Sam Lerner) and Jenny (Spencer Locke) to break through the barrier of the supernatural and defeat the powers of darkness before the house grows too powerful to fight. ~ Jason Buchanan, Rovi
News & Interviews for Monster House
Critic Reviews for Monster House
Audience Reviews for Monster House
½
"So I had my two yr old nephew today. He either brings a new book for me to read or a movie for us to watch. He's my kind of kid ; } Anyways, so this is what he wanted to watch. It's more fun watching him watch the film then the film itself. He gets scared and screams and runs and hides in the hallway and peaks around the corner and then finally joins me again when it gets less scary. He's a riot. But now for the movie. It's a lot of fun. It reminds me of how fun and original cartoons can be. I thought Chowder was really funny. It's just one of those cartoons you don't mind having to watch a few times... Cause he's two and that's what they want.. so yeah.. I watched it a few times.. Definitely worth checking out if you haven't had the chance yet."
♥˩ƳИИ ƜѲѲƉƧ♥
Super Reviewer
Lucas Martins
Super Reviewer
Monster House is a terrific animated comedy horror film that is perfect for the Halloween season. Monster House has gotten tremendous flack for being too frightening for children, and in a way, I can see why. However I think there are enough things to enjoy about this film that will appeal for the entire family, no matter what age you are. Of course, I wouldn't recommend this film to little kids as there are some scary scenes that may be too intense for small children. Anyways, Monster House is definitely a fun film to see and enjoy. I thought that the idea for the film was terrific and that it delivered something refreshing to the genre of animated films. I think that Monster House is a terrific addition to the comedy horror genre. I can understand why this film got the criticism it has received due to its scary content that may be too intense for kids, but that doesn't change the fact that this is a great film that is lots of fun. Producers Steven Spielberg and Robert Zemeckis and director Gil Kenan has made a stunning animated film that is pure fun from start to finish. The characters are great, the plot is original and there's just so many good things going for Monster House. Either way you at it, Monster House is a great film even if it may be too "scary" for kids. I personally think that this is the type of film that the entire family can enjoy during the Halloween season as it has enough spooks and laughs to appeal to anyone. A fun, entertaining film.
Monster House Quotes
There are no approved quotes yet for this movie.