Money Talks
(1997)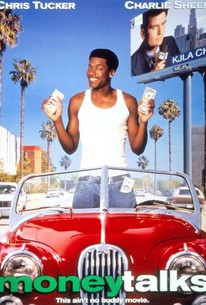 Movie Info
Essentially a showcase for the talents of squeaky-voiced comedian Chris Tucker, who has been compared to a young Eddie Murphy by fans, and to fingernails on a chalkboard by detractors, this action-comedy centers on the unlikely friendship that develops between a fast-talking petty con-artist and a has-been newscaster who is trying to resurrect his career and marry a young noveau-riche debutante. Though strictly small potatoes, scam-man Franklin Hatchett (Tucker) attracts the attention of the TV anchorman James Russell (Charlie Sheen) while running his latest con at a carwash. Shortly after refusing an interview with Russell, Franklin ends up jailed. He manages to escape when a transfer bus is hijacked. Handcuffed to a French jewel thief involved in the attack, Franklin is dragged along. He escapes, but his troubles are not over, for he quickly learns that he is the accused perpetrator of the hijacking. When all is said and done, Franklin finds himself pursued by the cops, the thieves, loan sharks, and an irate pregnant girlfriend. In desperation he goes to Russell and makes a deal. Russell brings Franklin to his pre-wedding party to meet his fiance Grace Ciprani (Heather Locklear). Franklin creates big trouble when he tells her father Guy (Paul Sorvino) that he is Vic Damone, Jr., son of Vic Damone and Diahann Carroll. Guy accepts this and gives Franklin a real Italian welcome. But though he may feel safe for the moment, Franklin's troubles are just beginning and before the story ends, he and the hapless Russell are involved in gun fights, car chases and a final showdown at the Los Angeles Coliseum.
News & Interviews for Money Talks
Critic Reviews for Money Talks
Audience Reviews for Money Talks
Fast talking Tucker is the star in this fast paced comedy that despite doing badly upon release and being a rather bog standard action flick, I quite like it. Nothing new in the slightest with more of resemblance to 'Lethal Weapon' and 'Beverly Hills Cop' than anything, but the quips and ramblings of Tucker are amusing and highly energetic which play well against Sheens stuck up richboy. Clearly Ratner likes Tucker as he went on to use him for the 'Rush Hour' trilogy which is pretty much more of the same, this feels like a pilot for those films but is actually probably better, just about. Had it been made back in the 80's I'm sure this would have been looked upon more favourably but with an overloaded genre when it was released it fades into obscurity fast.
Phil Hubbs
Super Reviewer
One of my favorite movies of all time. Yeah, it's not great, but Chris Tucker delivers some of the funniest lines I've heard. Great movie for a mindless comedy with some decent action scenes.
Jason Robinson
Super Reviewer
½
Good action-comedies is a rare thing to come by these days. But during the 90's they came in the plenty, and this is an excellent example of that. Chris Tucker (being as loud-mouthed as he is) isn't always easy on the ears, but he's still a great and really funny actor, and always brings a lot of energy to the screen. The stuff that goes on story-wise may not be very believable, but it is, undeniably, highly entertaining. A perfect pick when you feel like just kicking back and watching something that doesn't require too much thinking.
Money Talks Quotes
There are no approved quotes yet for this movie.