Mitch Albom's 'The Five People You Meet in Heaven'
(2004)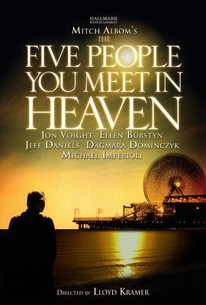 AUDIENCE SCORE
Critic Consensus: No consensus yet.
Mitch Albom's 'The Five People You Meet in Heaven' Photos
Movie Info
Mitch Albom wrote the screenplay for this made-for-television adaptation of his best-selling story, which offers a novel perspective on life, death, and the meaning of our existence. Eddie (Jon Voight) is an elderly maintenance man who has spent most of his life keeping the rides at an amusement park in good repair; Eddie has had a hard life, sustaining a serious injury during World War II and losing his wife, and he often wonders what the purpose behind it all is. One day, Eddie is killed while trying to save a young girl who has fallen from a ride, and in the afterlife, he's greeted by five people he knew during his lifetime, who explain to him what the key moments in his life were, and what was to be learned from them. The Five People You Meet in Heaven also features Steven Grayhm (who plays Eddie as a younger man), Ellen Burstyn, Jeff Daniels, Michael Imperioli, and Callum Keith Rennie.
Critic Reviews for Mitch Albom's 'The Five People You Meet in Heaven'
All Critics (3) | Fresh (1) | Rotten (2) | DVD (2)
Five People [You Meet in Heaven] is your basic Hallmark Entertainment fuzz, yet many scenes defy the brand's typical saccharine, tempering the light with a welcome grit.
But as its ponderous, simplistic tales play out, you find yourself counting down how many more people he'll still have to meet in heaven before the three hours are over.
Audience Reviews for Mitch Albom's 'The Five People You Meet in Heaven'
I think this movie TRIED to be encouraging and uplifting but it was incredibly depressing. First of all, God's name was maybe mentioned TWICE and the whole idea of heaven is being in the presence of God... literally "meeting your Maker." I didn't like how it was "everyone has their own heaven." Also, how could a soul be in more than one place at a time if someone else's heaven was different but had the same people in it as others? It makes no sense. I realise this is a figment of someone's imagination and meeting five people in heaven is completely fictional, but what upsets me is if someone saw this and believed it, instead of believing the Truth. Not once was ever mentioned HOW Eddie got to heaven... didn't mention his faith in the Lord Jesus Christ, in fact, mentioned that he even questioned if God knew he existed. I didn't like it. I watched the whole thing, but kept hoping it would be over soon because it was depressing me. The only good thing about it though was all my thinking about heaven... and how it is not far away from each of us. Life is short and we never know when it will end. We need to make the most of our time here on earth before we go. The part about Eddie's wife dying got me very teary eyed because I thought about what would happen if my husband suddenly took ill and left me alone on earth. I couldn't bear it. Just the thought made me very upset. I think the real heaven is going to be streets of gold, crystal clear water, the tree of life, God Himself laughing with us and answering all our unanswered questions we had on earth, our loved ones by our side eating great food and talking all eternity long about anything and everything and just pure joy forever. But the only way to get there is to accept Christ's death as payment for our sins.
Dannielle Albert
Super Reviewer
I knew nothing about the movie going in didnt know there was a book etc etc... just saw it because someone had it. In the end, its a good story, at times entertaining. But not great. I'm not sure if the book is so much better, but the movie is only "ok". It does sell good morals & ideas about life, but its mired in a mediocre film.
Mr. Canadagraphs
Super Reviewer
½
A unique and heartwarmning story, no matter what your beliefs are.
Sarah Prisbylla
Super Reviewer
Mitch Albom's 'The Five People You Meet in Heaven' Quotes
There are no approved quotes yet for this movie.