Miss Sloane
(2016)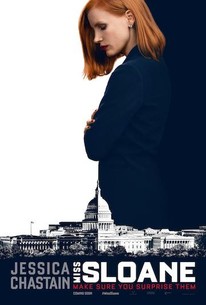 TOMATOMETER
AUDIENCE SCORE
Critic Consensus: Miss Sloane sits squarely on the shoulders of Jessica Chastain's performance -- and she responds with awards-worthy work that single-handedly elevates the film.
Movie Info
In the high-stakes world of political power-brokers, Elizabeth Sloane (Jessica Chastain) is the most sought after and formidable lobbyist in D.C. Known equally for her cunning and her track record of success, she has always done whatever is required to win. But when she takes on the most powerful opponent of her career, she finds that winning may come at too high a price.
News & Interviews for Miss Sloane
Critic Reviews for Miss Sloane
Audience Reviews for Miss Sloane
½
It is certainly more interesting than one would expect from a movie about lobbying, but it also feels forced and silly at times, with an ending that is proud of its own stupidity and a protagonist who is more a caricature of the workaholic "machine woman" than an actual person.
Carlos Magalhães
Super Reviewer
Miss Sloane comes from first time screenwriter Jonathan Perera and promotes the idea that to get ahead in the vicious game of D.C. lobbying one has to know their subject. Perera obviously knows his subject. How Perera, who was living in Asia at the time he wrote the screenplay and who only optioned his work to literary agents over the internet before securing a production deal knows so much about the inside dealings of those hired to persuade legislators to support particular businesses or causes is a mystery, but he seems to have done a fair amount of research. Either that or what he feeds us in Miss Sloane is a huge pile of eloquently written BS. Like an Aaron Sorkin script (I haven't seen The Newsroom, but I imagine this might feel very similar) where dialogue is almost more important than emotion Miss Sloane fast tracks the audience through a deluge of day to day activities that a lobbyist at the top of their game such as the titular Sloane played with vicious velocity by the one and only Jessica Chastain might engage in. We are given little time to keep up and even less to really gauge what Sloane and her team are working on as the focus is not meant to highlight what kind of case our titular lobbyist and her team are working on, but more how keenly they are framing it to their client's advantage. While the objective for a lobbyist is the end-game it is the getting there, the journey if you will, that requires the creativity of someone in Sloane's position and the more creative one is the better the reputation they garner in their professional circles despite undoubtedly garnering a worse one among friends. Of course, this is why it is also made clear Sloane has no family or friends to speak of or to. It is a vicious circle of sorts and Perera makes that evident by reiterating the importance of how information is framed by framing his own film with that aforementioned end-game. In Miss Sloane the end-game is a hearing on Capitol Hill in Caucus Room 4 of the U.S. Senate. What is she doing here? What has brought her to this point? What accusation is being thrown around and what does it have to do with her abilities and/or the moral ambiguities of her techniques? Each are questions begged as small increments of information are fed the viewer within the epilogue of the film, but once the main narrative takes over it is easy to forget that framing device and simply go along for the ride which is exactly what Perera would prefer you do as he finds trouble in both sticking the ending and making it credible enough that we don't question how well he really does know his subject. read the whole review at www.reviewsfromabed.com
Philip Price
Super Reviewer
SUCH A NASTY WOMAN - My Review of MISS SLOANE (3 Stars) John Madden directed the Academy Award Winning film, SHAKESPEARE IN LOVE, and think what you will, but it contained such as woozy, winning charm. Although his career has been dotted with similarly toned projects, he has shown a harder edge with such movies as THE DEBT, KILLSHOT, PROOF, and the pilot to MASTERS OF SEX. None of that prepared me for the relentlessly dark tone that is MISS SLOANE. First time screenwriter, Jonathan Perera has crafted a bleak, tough story of a tough DC lobbyist who switches sides from an NRA-backed, pro-gun stance to the weaker opposition who favor stricter vetting of gun owners. Jessica Chastain plays Elizabeth Sloane, who comes across like Faye Dunaway's harder, more aggressive cousin to her Diane Christensen character in NETWORK. Like Christensen, Sloane has virtually no back story. We know she suffers no fools, takes a lot of pills to calm her nerves, and releases tension by hiring a male escort from time to time. And that's about it. When she switches sides in the first act, we're not sure if she has a moral compass, if she just wants the challenge, or if she wants to win. Chastain's challenge, therefore, is to keep us interested in this harsh character, despite our lack of information, and I'm happy to say she does just that in a blazing, percussive, non-stop, full throttle performance. She makes a lot enemies right off the bat, when she pulls a Jerry Maguire and leaves Sam Waterston's firm, taking the best people right along with her. The opposition is led by Rodolfo Schmidt (Marc Strong) and Sloane establishes herself right away as a rogue lobbyist who has very little care for the damage she causes others on her path to victory. I watched this film immediately after seeing 20TH CENTURY WOMEN, which makes no bones about its feminist leanings. By contrast, MISS SLOANE is so strident that I wondered if it was misogynistic or if it was attempting to present a woman in the same manner as any man doing this job. The truth lies somewhere in between. Throughout the film, I kept reflecting back on Donald Trump's comment about Hillary Clinton during their last debate (hint: see title of this review). So many people, men and women, who see this film may easily dismiss Sloane as a single-minded careerist who needs to be put in her place. I, however, saw it as a portrait of a woman who gets lost in her attempts to win at all costs. You may not agree with her tactics, but Chastain makes it impossible to look away. The movie itself isn't great. In fact, it lacks credibility at times, but Madden really knows how to keep things sleek and moving along. I wasn't bored for a second, and there's a healthy dose of Aaron Sorkin-style smarts in the dialogue and plot twists. In addition to Waterston using his crooked mouth to optimal effect, Gugu Mbatha-Raw provides the heart and soul of the film as an aide whose personal life suffers greatly by helping Sloane make her case. Alison Pill is sharp and vivid as a lobbyist who refuses to join Sloane on her crusade and stays behind with the pro-gun side. John Lithgow oozes smarm and corruption out of his pores as a Senator who presides over an Ethics Hearing accusing Sloane of malpractice. The story begins in media res, starting at the hearing and working back to explain the reasons why Sloane consistently invokes her 5th Amendment right to not answer any questions. Lithgow tries to break Sloane, which would surely ruin her chances at success. It's a beautifully sustained section in which the tension really snaps. Truth be told, MISS SLOANE plays out like a TV series pilot along the lines of DAMAGES, but the dynamics, the fun, smart dialogue, and the succinct images provided by cinematographer Sebastian Blenkov make for a decently entertaining film. It forces you to sit up and pay attention so that you can participate in its delicious twists and turns. Chastain, for me, wavers between reticent, dewy-eyed performances like those in INTERSTELLAR and TREE OF LIFE and showy stuff like her work in THE HELP, ZERO DARK THIRY, and CRIMSON PEAK. Her performance in MISS SLOANE ranks among her finest. You simply can't take your eyes off of her, despite a character who lacks some essential layers. It's not essential viewing, but her acting may just be enough for most who see this film.
Glenn Gaylord
Super Reviewer
Miss Sloane Quotes
There are no approved quotes yet for this movie.