Miss Bala
(2012)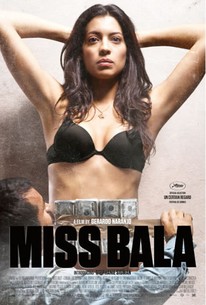 Movie Info
Miss Bala tells the story of Laura, a young woman whose aspirations of becoming a beauty queen turn against her, delivering her into the hands of a gang that's terrorizing northern Mexico. Although Laura succeeds in winning the beauty queen crown, her experiences as an unwilling participant in Mexico's violent war leave her shaken and transformed. -- (C) Fox International Productions
Critic Reviews for Miss Bala
Audience Reviews for Miss Bala
I could swear that I had already reviewed this piece but Flixster still has it on my "want to see" list so here we go again. With shades of Traffic and Maria Full of Grace, we have Miss Bala which has similar storylines. Perhaps it is unnecessary to get into themes so richly covered by those previous films but Miss Bala gives us the unique, and possibly true, angle of the beauty queen working for criminals. It works out nicely.
John Ballantine
Super Reviewer
What I like most is that the audience possess the exact same amount of information as the central character does from beginning to end, which gives the film an uneasy spontaneous energy that keeps you transfixed on the action. It pushes the limits of credibility at several points, but that doesn't hurt the film enough to be a serious problem. As a thriller its quite nerve wracking and as a metaphor for how innocent Mexican citizens are used as pawns in the drug war between the various gangs and the DEA its effective.
Alec Barniskis
Super Reviewer
Miss Bala (Mexico's foreign film entry for 2011) is an unwavering, startling, and deeply tense movie about one woman's tragic and unwilling association with a powerful drug cartel. Laura (Stephanie Sigman) wants to be the next Miss Baja California, but she's unwittingly pulled into a life of crime after she witnesses a gang hit. The cartel ensures that Laura wins the beauty pageant and becomes a courier for them. The movie takes a Lars von Trier approach to storytelling, putting its heroine through a torture chamber of anxiety and terror. This woman only wants to escape the hell she has accidentally found herself a part of, but every attempt to escape, be it going to the police or confessing assassination plots to the intended targets, gets her corralled back into the fray. For Laura, there is no escape. The movie packs a near-constant surge of paranoia, as we fear that at any time something awful will happen. In fact it's usually only a matter of time. Laura is more a symbol of the collateral damage of Mexico's billion-dollar drug war than a character, and she kind of becomes a numb zombie by the movie's latter half, perhaps accepting her doomed fate. Director Gerado Naranjo favors long unwinding takes and handheld cameras, which add a gritty realism and sense of compounding dread to the picture. The movie has an unflinching level of realism to it that makes it all the more haunting, stripping the romanticism from a life of crime. Much like Italy's heralded crime film Gomorrah, this bleak but impassioned movie shows the inescapable tentacles of organized crime and gives a face to innocents caught in the middle. Miss Bala is a testament to the hidden toll of a nation at war with itself. Nate's Grade: B+
Nate Zoebl
Super Reviewer
Miss Bala Quotes
There are no approved quotes yet for this movie.