De Helaasheid der Dingen (The Misfortunates)
(2010)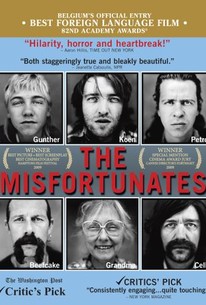 De Helaasheid der Dingen (The Misfortunates) Photos
Movie Info
A boy growing up with a family of Flemish slobs learns more than his elders imagined they were capable of teaching in this purposefully rude comedy drama. Gunther Strobbe (Kenneth Vanbaeden) is 13 years old and living with his father, Marcel (Koen De Graeve), his three uncles (Bert Haelvoet, Johan Heldenbergh and Wouter Hendrickx), and his grandmother (Gilda De Bal). You would think that Gunther has more than enough adult role models in his life, but the Strobbes are not an ordinary family; Marcel works part-time as a letter carrier, though the fact there are several bars on his route makes getting the work done a challenge, while his brothers are booze-addled layabouts who sponge off their mother, who is too sweet to deny them her meager pension. Gunther loves his family, but they often seem more like seedy playmates than authority figures, as the men in the house spend their days gulping down beer and sausage, breaking things, playing rude pranks on others, and chasing women, often with hilarious but embarrassing consequences. Years later, Gunther has launched a career as a writer, is married, and is expecting a son; suddenly frightened by the new responsibilities that await him, Gunther seeks out Marcel and his brothers for some advice on fatherhood, a subject one might not imagine is one of their strong suits. Directed by Felix Van Groeningen, De Helaasheid der Dingen (aka The Misfortunates) was adapted from the novel by Dimitri Verhulst.
News & Interviews for De Helaasheid der Dingen (The Misfortunates)
Critic Reviews for De Helaasheid der Dingen (The Misfortunates)
Audience Reviews for De Helaasheid der Dingen (The Misfortunates)
½
This is a damn good film. I think it sort of goes from being a very low-brow comedy into an interesting examination of a very dysfunctional family and how that shapes Gunther's own life as an adult. The thing about the movie is that under all the "ugliness" the Strobbes display through their behavior, the film is certainly very heartfelt and honest about how it portrays its characters. Sure they may be ugly, unlikable, drunkards, gamblers...but they feel like a real family and that's what the film gets across greatly. They do feel like a very close and tight-knit family and you get to see their ups and downs, mostly downs really, and how they relate to each other. So it's a very well-written film, it's also well-acted but there's something about the film, it's not really a flaw, but somehow the film is content with just being very good, it never feels great. There's some inspired stuff here but it's never great and I'm not sure what the reason is for that. But at least it's still a damn good film about a fascinating family.
Jesse Ortega
Super Reviewer
½
The Misfortunates works well as a coming-of-age story, because the people involved feel connected to the material. In other words, director Felix Van Groeningen has made a film that isn?t just entertaining; it?s genuine, as well. For every offbeat nostalgic moment, there are five that depict alcohol abuse and sexual depravity. This isn?t a one-dimensional portrait, and Groeningen uses the pleasant elements of the movie to ease into the uglier ones. Wonderful performances and enticing direction. One of 2009's best.
De Helaasheid der Dingen (The Misfortunates) Quotes
There are no approved quotes yet for this movie.